Watch playlists: human versions - some generative versions - generative Miami Edition
---
NFTs for Peace is the first generative music NFT collection on the Stacks Blockchain (June 2022), a collaboration involving the Curator Collective, Sean Longstreet, Adrian Lewandowski, and Manuel Gimferrer.

Team ↑
The original music, composed by Gimferrer and inspired by the above drawing by Gonzalo Borges, was arranged and produced by Longstreet along with the help of various musicians. More than 300 music stems were used to generate this collection. Each NFT was algorithmically generated from these stems, including instrument recordings and synthetics. A structure was designed and an python script written (by Lewandowski) so that the stems are layered and sequenced at random (constrained by certain rules decided by the team) to produce 490 NFTs. 10 additional NFTs were human-made by community members arranging the stems at their own will, resulting in the final 500 pieces in the collection.
This is an example of one of the generative arrangements that includes 38 tracks:
More details
The Physical Art. Regardless of how and why war is justified and how propaganda machines are activated to gain popular support, most people on both sides lose, especially the ones that had no say in initiating or maintaining it. We, the regular people, are left to wonder why, why on earth would anyone want war … and we fill in the void with speculation and sometimes conspiracy theories trying to explain it in a rational way … but humans are too often irrational … Artists capture this soup of feelings and irrationality at times of wars. The war in Ukraine reminded us of work by Gonzalo Borges, capturing his impressions of the US invasion of Iraq in March of 2003, more than 20 years later. We asked him about this drawing when visiting his studio in December of 2021, as it was different from most of his other more cheerful work, and he explained that it was a representation of the mix of feelings he experienced through his lens and what he saw in the news outlets at that time. The Curator Collective has acquired this drawing, and its fate will be collectively decided by owners of the "NFTs for Peace" collection. The graphics that accompany the music are artistic variations of the 2003 drawing by Gonzalo Borges.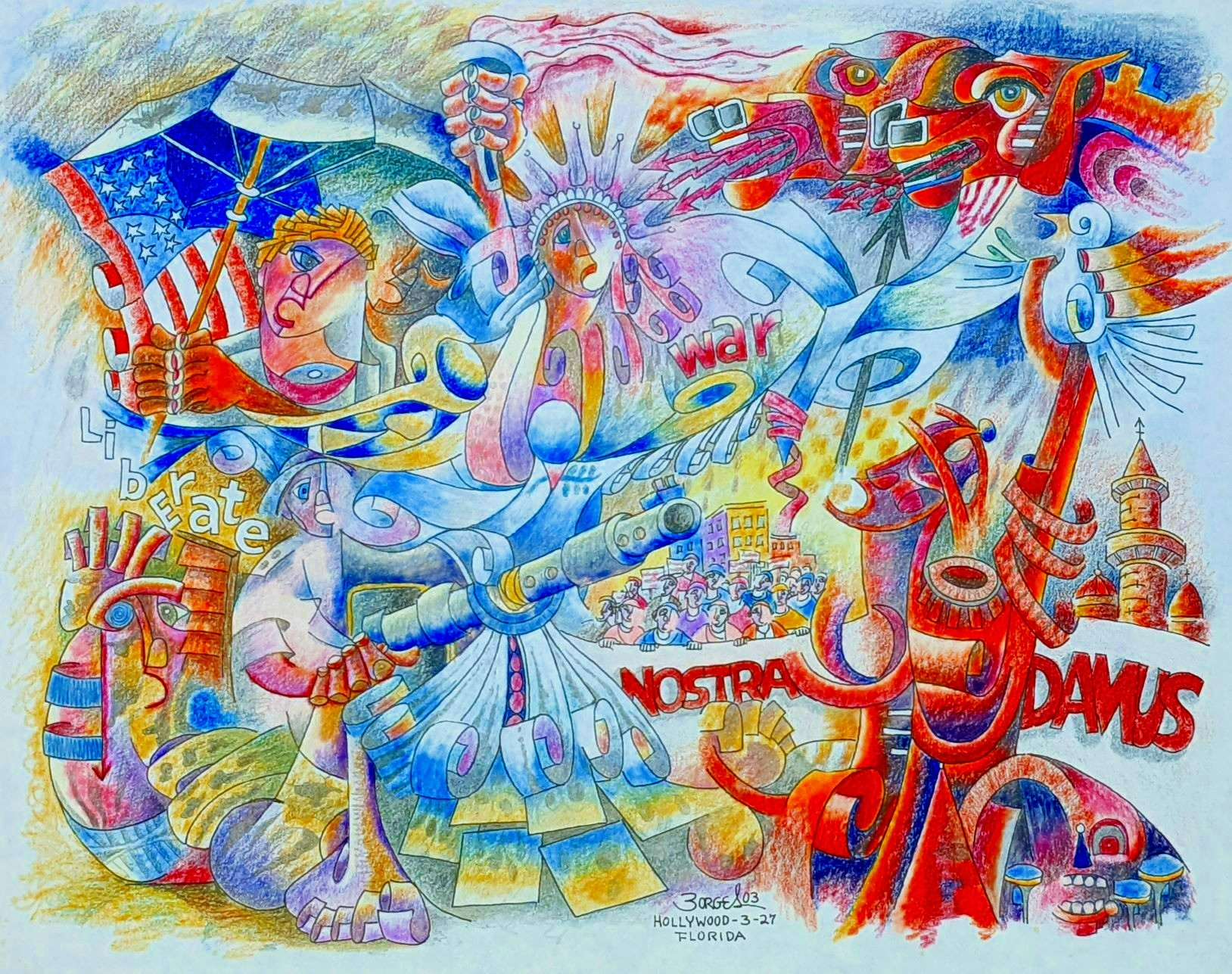 Original Music. The original music, inspired by Borges' drawing, was composed by Manuel Gimferrer and arranged by Sean Longstreet. In this video, Manuel explains how each of the three themes that the composition revolves around were developed. It is definitely worth watching it; you will appreciate the music in a different way after you do.
Music Arrangements. Production, edition, and recording of most instruments by Sean Longstreet.
Creative coding and recordings. Through this collaboration with Manuel Gimferrer and Sean Longstreet and with the addition of Python guru and star scientist Adrian Lewandowski to the team, we are introducing an innovative element of generative music and visuals. An immense amount of work by Longstreet went into the production to prepare the files that went into the code, so that the instruments' recordings match perfectly when the algorithm layers and sequences them to create the final music. The team also went through so many iterations in the code and recordings, tweaking and re-tweaking the code (>800 lines) and audio files to get to music we are all happy with.
Machine vs Human. As mentioned above, 490 are machine generated while 10 are human. You can find these if you filter the attribute "arrangements" at the Gamma website. There, you can also filter by many other attributes, including instrument type.
Miami Edition. In 2023 we released a special limited edition of NFTs for Peace with Miami vibes. You'll know what we mean when you listen to them.
Please contact us if you want to chat or learn more about the collection, we are happy to talk to you on Twitter or Discord.