Newsletter #2 - NFTs for PEACE - genmusic.art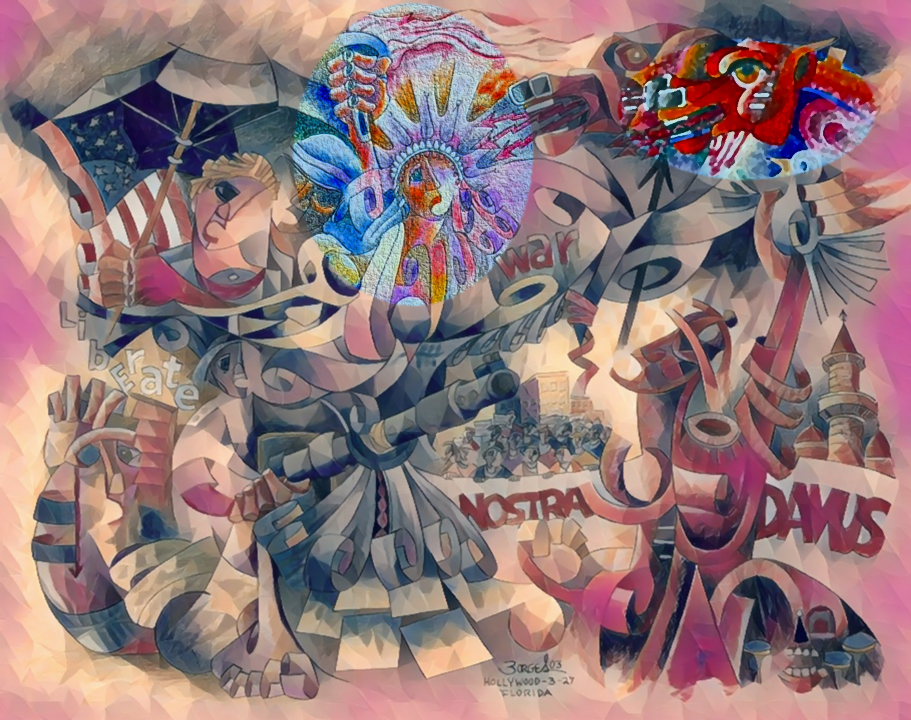 Summary
First generative music collection on the Stacks Blockchain - genmusic.art

20% of the proceeds from the mint will be donated to a charity to support refugee relief efforts

We developed code to mix and layer music tracks

Mints June 17 - deadline to secure a private mint spot: June 11- join discord for instructions

Collaboration between musicians and composers Manuel Gimferrer (MirloMusic)nd Sean Longstreet, scientist and creative coder Adrian Lewandowski, and professional tinkerer Anibal Boscoboinik from the Curator Collective

Graphics that accompany the generative music are artistic variations of a 2003 drawing by Cuban/Miamian artist Gonzalo Borges, based on his impressions of the invasion of Iraq.
---
The Team

---
Project Details
NFTs for PEACE was first envisioned within the framework of prior Curator Collective collections, as being digital variations of a physical work of art. However, the addition of music, and then making the music generative, has grown this project into something a lot bigger and really unique. Given the new focus on generative music, the project will live in a separate website: genmusic.art. That said, the NFTs still carry the rights to vote on the fate of the physical art, like all other Curator Collective collections.

20% donation to refugee relief. The world is a different place since our last newsletter. We have a policy of not getting into politics, but we can't ignore the suffering we see around us, which is why 20% of the minting proceeds will be donated to a refugee relief charity.

The Physical Art. Regardless of how and why war is justified and how propaganda machines are activated to gain popular support, most people on both sides lose, especially the ones that had no say in initiating or maintaining it. We, the regular people, are left to wonder why, why on earth would anyone want war … and we fill in the void with speculation and sometimes conspiracy theories trying to explain it in a rational way … but humans are too often irrational … Artists capture this soup of feelings and irrationality at times of wars. The current situation in Ukraine reminded us of work by Gonzalo Borges, capturing his impressions of the US invasion of Iraq in March of 2003, 19 years ago. We asked him about this drawing when visiting his studio in December of 2021, as it was different from most of his other more cheerful work, and he explained that it was a representation of the mix of feelings he experienced through his lens and what he saw in the news outlets at that time. The Curator Collective has acquired this drawing, and its fate will be collectively decided by owners of the "NFTs for Peace" collection.

Original music. The original music, inspired by Borges' drawing, was composed by Manuel Gimferrer. In this video, Manuel explains how each of the three themes that the composition revolves around were developed. It is definitely worth watching it, you will appreciate the music in a different way after you do.

Creative coding and recordings. Through this collaboration with Manuel Gimferrer and Sean Longstreet and with the addition of Python guru and star scientist Adrian Lewandowski to the team, we are introducing an innovative element of generative music and visuals that we can't wait to share with you. An immense amount of work by Longstreet went into the production to prepare the files that went into the code, so that the more than 70 instruments' recordings match perfectly when the algorithm layers and sequences them to create the final music. The team also went through so many iterations in the code and recordings, tweaking and re-tweaking the code and files to get to music we are all happy with.

Private Mint. Holders of NFTs from prior collections by the Curator Collective and by Longstreet can claim a guaranteed spot in the private mint on June 17 and June 18, by following the instructions in our discord. Some spots will be also available for public mint on June 19. The private mint price has been tentatively set at 40 STX, and we will be confirming this, and the collection size in the coming days.
Looking ahead
We have put our hearts, brains, and countless hours on NFTs for Peace, and we are extremely excited to share with you what we have been working on. Ask us any questions on twitter, discord, or in person at nft.nyc.
Cheers!
Powered by