A few weeks ago Mirlo Studio received a collaboration proposal in our Smartists studio.
It was about composing a short musical work based on the drawing of an award-winning North American painter of Cuban origin, Gonzalo Borges. The proposal came from Curatorbtc, a project that is creating connections between the real and digital worlds, making collections of NFTs backed by physical works of art.
Gonzalo Borges' painting
"La guerra a través de los ojos de un artista" [War through the eyes of an artist]
It is a painting had been created at the beginning of the Iraq war, and leads us to a reflection on the war, just as the founder of Curatorbtc, Anibal Boscoboinik, explains with these words:
"…We, the regular people, are left to wonder why, why on earth would anyone want war… and we fill in the void with speculation and sometimes conspiracy theories trying to explain it in a rational way… but humans are too often irrational…

Artists capture this soup of feelings and irrationality at times of wars. The current situation reminded me of work by our own Gonzalo Borges, capturing his impressions of the US invasion of Iraq in March of 2003, 19 years ago. We asked him about this drawing when visiting his studio in December of 2021, as it was different from most of his other more cheerful work, and he explained that it was a representation of the mix of feelings he experienced through his lens and what he saw in the news outlets at that time."
Manuel Gimferrer's Music
The musical composition, for its part, puts that persistent background of death, which follows us relentlessly while life tries to make its way around us with its light and color.
It is initially a short piece for piano of about 3 minutes. However, Manuel is exploring variations by introducing other instruments so that multiple musical themes can be generated…
Combining these two works will generate a number of NFTs, with part of the proceeds from their sale going to refugee aid.
The collection will be designed in the coming weeks with the idea of launching in May, click here to see a little teaser...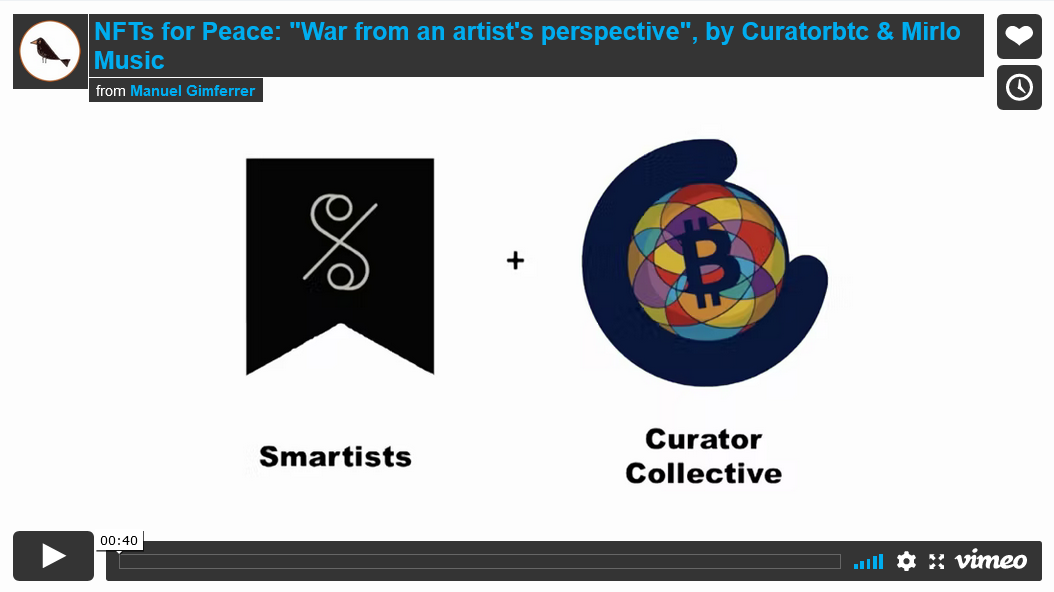 We want to take this opportunity to thank Curatorbtc for their support, and for inviting us to work together on this project.
In 2022, it will be 25 years since Mirlo and Georgina met, and it is exciting to see that the mission that has brought us this far can look to the future with confidence. We will tell you more about the celebration of this 25th anniversary in a few weeks, after Easter.
See you soon!
Mirlo