[This is a translation of the original Podcast episode in Spanish, published here in September 2021]
The Story
The phone rings. It´s my publisher to remind me that he counts on mi for the Book Fair. Can't help but getting excited... For an author who is usually communicating with her audience form the web, social media, and just sometimes via email, the possibility of a much more personal meeting as such, is an actual present.
The days arrives, and I take a walk to the "Parque de El Retiro". I do it like in celebration, since I am going to listen to my readers, face to face...
 
At the Book Fair in Madrid, Spring 2014
In my publisher's box, the posters of the "Cuéntame una Ópera" collection sorround me. The first visitors start approaching. For the Publisher, in my as "Ciudadela Libros", it's time to sell as many books as possible and to promote their collections. They are really pleased, and I am actually grateful for this opportunity. At some point, there is a teacher who uses my books in his classroom... after him comes a boy with his father.
The father introduces himself and explains that his son loves my books... then he pushes the boy to talk, and the boy overcomes his initial shyness and making an effort tells me: 

- Are the one who made cuentameunaopera.com? 

- Well yes… and you, what is your favorite story from these?

- Turandot, he answers without any doubt. 

His father then adds: he really enjoys the music in Turandot, especially the choirs... First, it was all about the images on the web, but then he started playing with Mirlo in the games page, and lately he has been watching the videos... Could we buy here Turandot" and have it signed by you?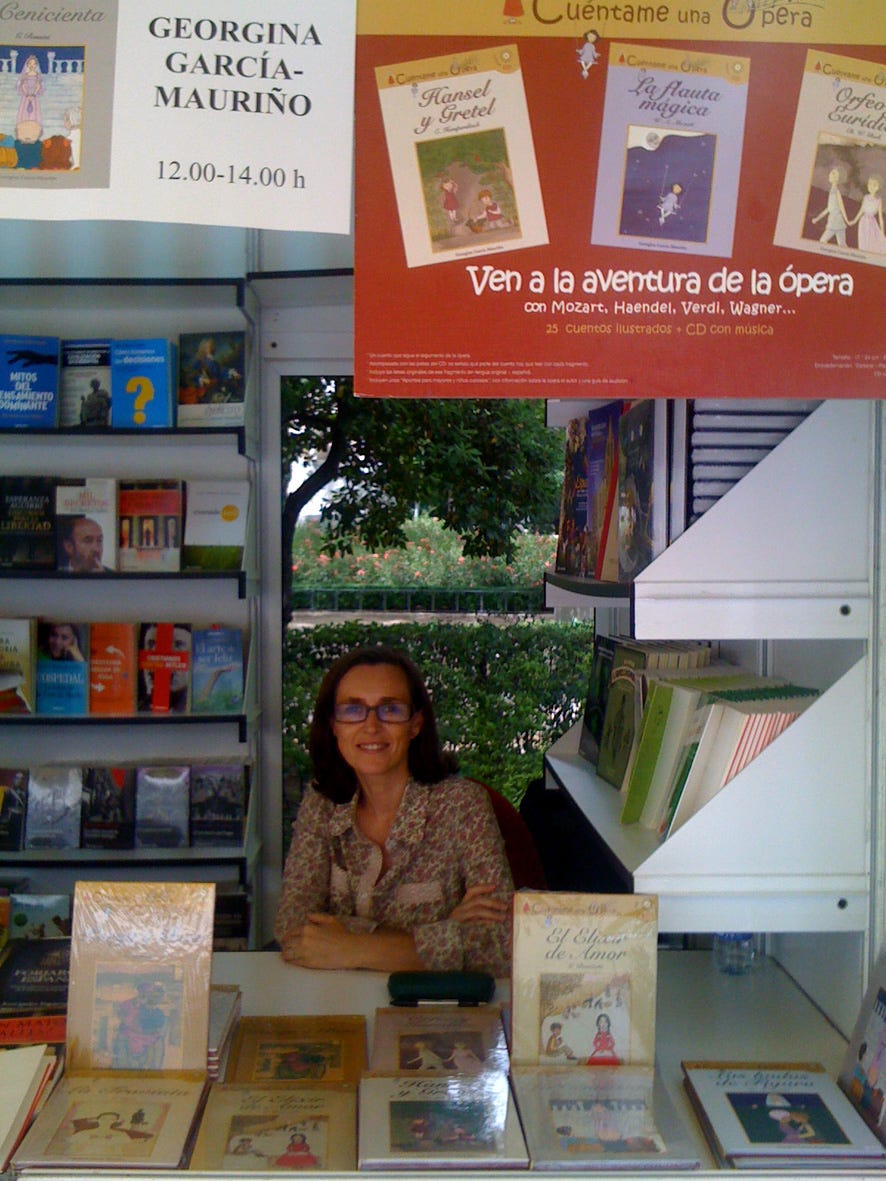 I listen carefully, and I have to contain my emotions, but then... I have to apologyze: Turandot has not been published by Ciudadela Libros yet. At home i keep some samples form my first indie-edition, but I don't have them here and now. Of course, we can exchange emails and keep in contact to send him Turandot after the Book Fair... Nevertheless, the moment's magic, the wish of father and son has vanished.
As I see them walking away, I just hope that the father will be able to provide a good answer to the boy's deception.
This happened the last time I was in Madrid International Book Fair, in Spring 2015.
Today's reflection
Social Media and websites allow us to promote ourselves as authors, and thanks to them i had the chance to get to many followers in Spain and Latin America, actually beyond any expectation i could dream of. I recover the data from that time, and see that more than 6000 unique visitors entered the website daily at that time.
So far, Publishers and bookshops, promoters and music venues as well as so many more businesses play a fundamental role for culture to be alive, because they have the means a the spaces for artists to meet with their audiences. On another side, as authors we have got paid for our art works - books, paintings, photography, music, etc.- through them, who are the ones producing and distributing the copies of our original creations. This is the way they manage to take them to our audiences. And, I must point out here that independent publishers do a great job with special care for authors and readers.    
But today, apart from the new digital marketing tools, there are also great software for editions which opens the door for new possibilities in terms of production and creation. Maybe this is why there has been an explosion of good editing online services provided by online publishers and distributors, as well as auto-editions services along with distribution support. 
Most artists and authors I know want to count on support for the promotion and distribution of our works. Nevertheless, we also want to address our audience directly. This is the reason why it is so tempting to sell our art works digitized and organize the distribution of our physical works from our own website… and today there are commercial platforms to open "our own shop".
In this new form of economy, which is often called the Creator's Economy, authors and artists can better self-manage and address directly their audiences.  We have several options that can actually adpat to different cases. So it is important, while considering our options, to have a close look at the Terms of Service of the platform we are going to use. because those terms usually include licenses that may affect our copyrights as well as our personal data.  
Moreover, the best options are coming up, because on the web3 new solutions are goinog to give back authors the control over their data, their works and their audience.
Especially, with the NFTs tech, an author can mint that Non Fungible Token, this is a digital unique representation of a work that can certify its source if needed. Once minted, the NFT can be listed for sale and offered directly to clients, followers, publishers, promoters producers, supervisors, etc. For this to be easy and secure we work at Smartists. Follow this link to know more.
About promotion, we can talk in next episodes of this podcast, because not every author wants to devote their time to auto-promotion on social media.  
Personally, as an author-illustrator, on the web I aspire to connect with my audience in a more interesting and personal way than just sell my books or licenses to use my illustrations. In that sense, I am more interested in quality than in quantity. That was actually my first motivation to farewell my activity on the web 2.0, and participate in the construction of the Internet of Value. 
For more than twenty years my work was focused in education via music, and i have addressed families and children of all ages… This is the reason I think it is fundamental to provide safe spaces, private and even confidential on the web, where like that morning in the Book Fair at Parque del Retiro, a father and his son can chat with an author naturally, without having to care about their personal information being taken form them without their consent.
New options are coming up on the web, to communicate and to exchange value. It is good that those who create new works, authors and artists, know them as they learn to self-manage, so they can decide for themselves, freely, how they want to be on the web… 
Also for readers and audiences of all kind, for all those who want to connect and support their preferred artists directly, the web3 comes with the promise for connecting us at new levels as well as bringing a whole world of new shared creative experiences. Let's discover it together in this podcast.
An author building the user-owned Internet.