[Lee el artículo original en Español aquí]

Hello, I'm Flower and this is a new content where I will show you how to create a Web3 wallet in Hiro, which is an essential tool to connect with applications developed for the Stacks ecosystem from your computer.
The objective of this publication is for you to give shape to what you have learned in the Smartists Course - NFTs + ©. A free course with basic concepts to understand the role of NFTs, intellectual property and copyright licenses.
How to create a Web3 wallet: Hiro
Your journey through the Web3 world begins here. Your wallet is what will connect you to the blockchain. To understand web3, here is a detailed explanation.
STEP BY STEP:
STEP 1: Go to the official website https://wallet.hiro.so/wallet/install-web
STEP 2: Now, Install the Hiro Wallet extension in your browser by clicking the button that says: Install from Chrome Web Store.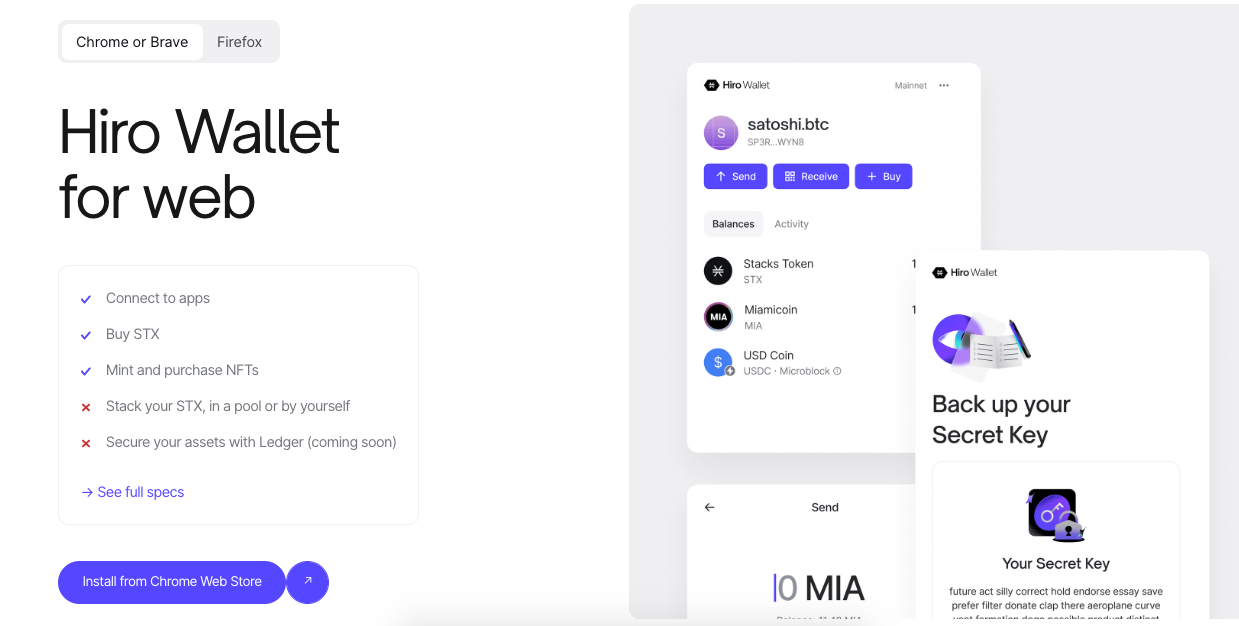 Then, you will be on the Chrome Web Store page, here press the blue button: Add to Chrome, to install the extension on your computer.

For security and privacy, install this extension on a computer that you own, that only you have.
Immediately after installing the extension, you will see a page like the one in the image below. Click Allow, to improve the user experience: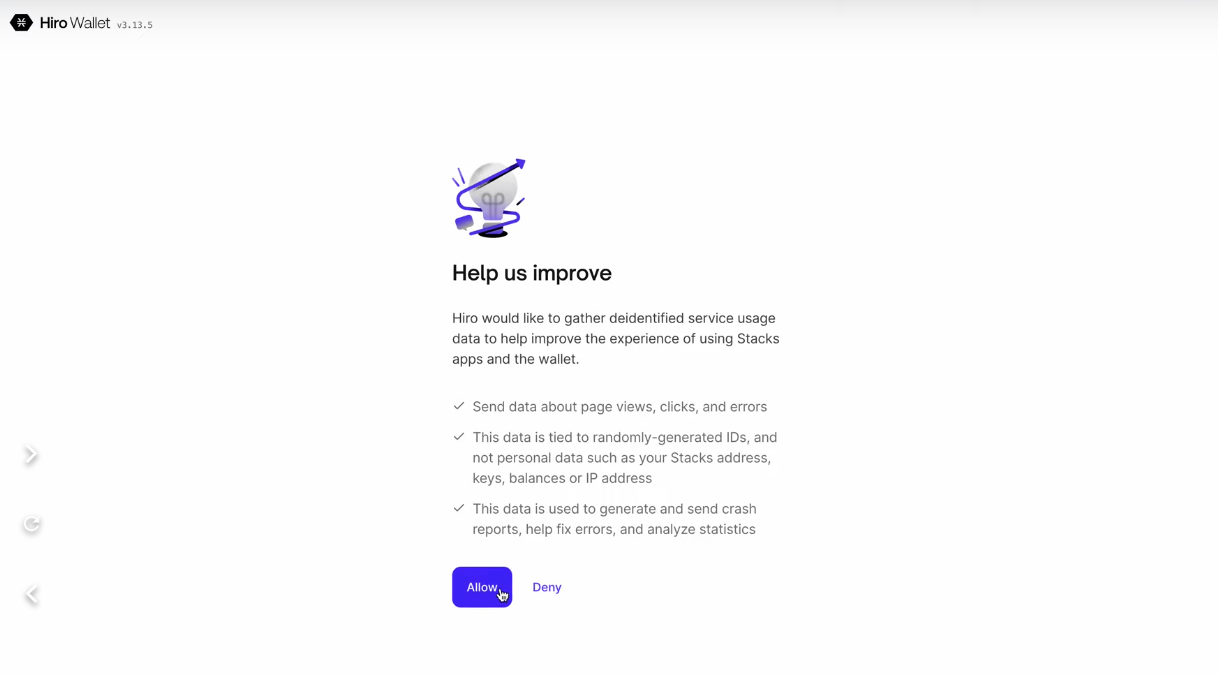 STEP 3: Once the above steps are done, the following page will now be shown. You must click on the button Create New Wallet, as shown in the image: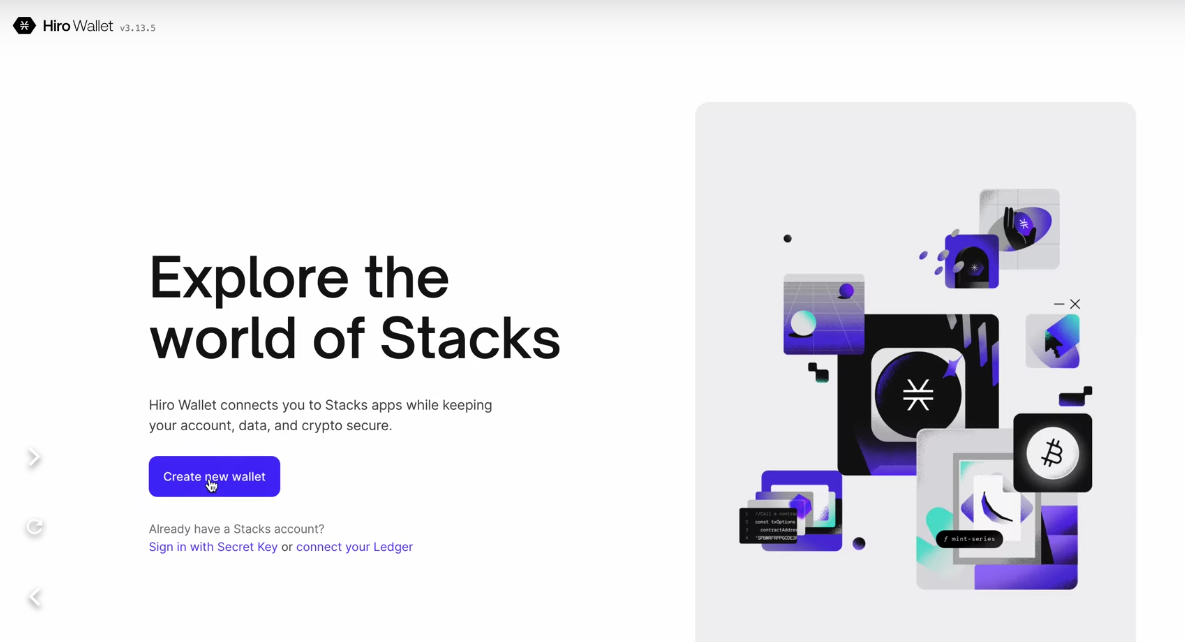 Once you click, your wallet creation process begins. You will be shown a page where on the right you will have your secret key, which is a set of words unique to you. You must write it on paper in the exact same order as they appear and save this information like a treasure, because it will allow you to access your wallet on your device and even transfer it to another if you need it.
You should treat your secret key like your bank account password because that is basically what it is. Only you should know these words, no one else. If someone gets this information, he will have access to all your funds, and I guess you don't want that, do you?
Once you have written down and saved these words very well, click on the button I've backed it up, as shown in the image below: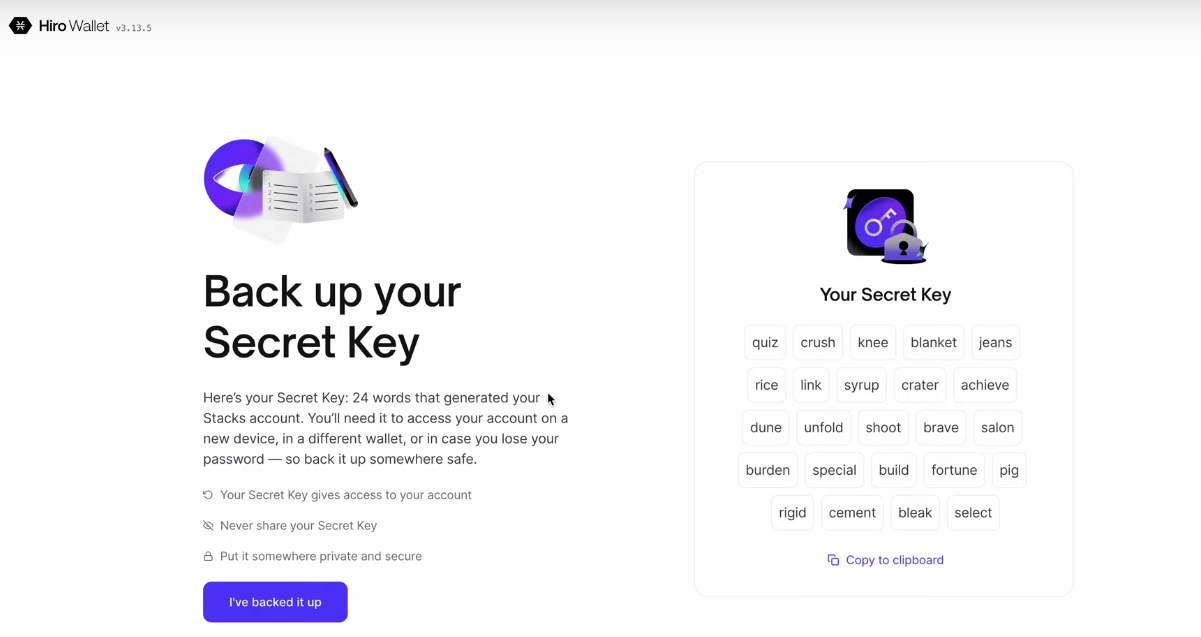 This is a screenshot of a random wallet, for educational purposes only.
STEP 4: Afterwards, you will be able to create a password to log in every day. Choose a password that contains uppercase and some special characters. This is your access key when you want to use your assets, and it will be requested every time you want to connect your wallet to any application in the Stacks ecosystem.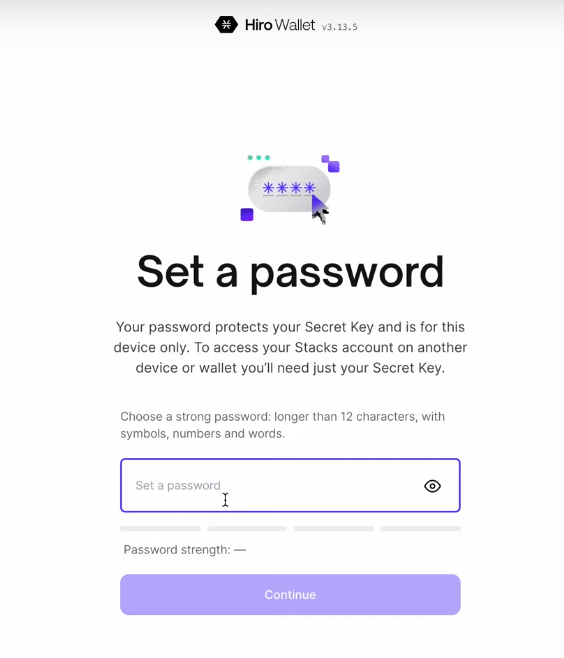 And that's it! You will have already created your Hiro wallet.
To ensure that we have direct access to the Hiro wallet from our computer, we must set the extension on the top bar, as I show in this GIF: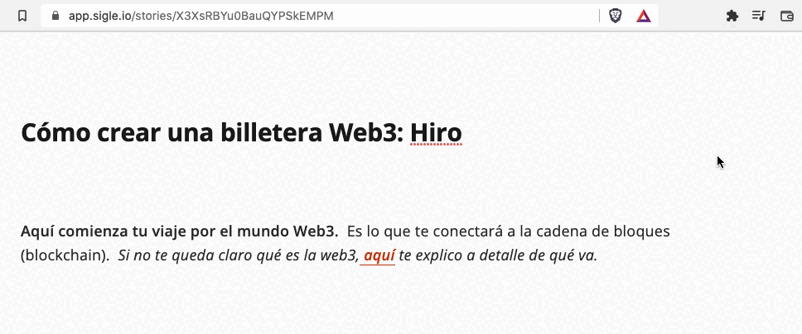 In this way, we can already see the STX icon (a circle with a black background) in the bar. When pressed, it will show us the info of our wallet, in which we can receive, send, and buy cryptocurrency Stacks and NFTs in Bitcoin. When you click on this icon, it looks like this: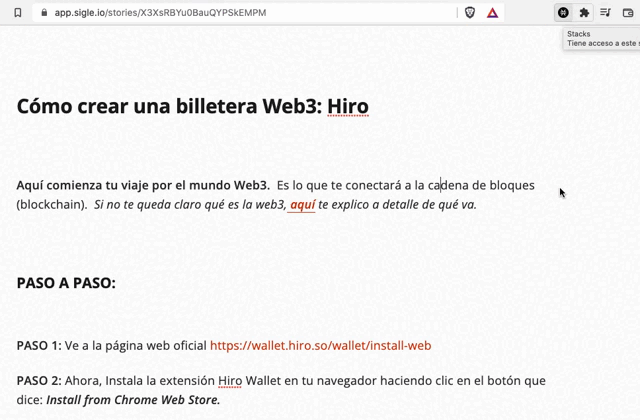 For Spanish-speaking readers, if this is not clear enough or you have any doubts, here is a video tutorial from the Stacks Latam community on How to download, install and configure the Hiro wallet: Cómo descargar, instalar y configurar la billetera Hiro.
Why and for what purpose do we have a Hiro wallet?
This type of wallet is made in a few minutes, it allows you to safeguard your assets without depending on third parties, so it is something great and liberating but also (like everything in life) it implies a great responsibility. There is no intermediary, no agencies, or banks, so you don't need to complete a thousand requirements either.
It is liberating because you are your own bank. Your address to receive or send assets belongs only to you. We can have our own wallet or professional wallets where we can store money in cryptocurrency, which would be the equivalent of a traditional bank account.
It is a great responsibility because you must take care of your personal information, manage your movements well, and take some security measures to protect your money.
When we have a bank account in any institution, we trust that entity to take care of our money and provide us with physical and digital tools to move it whenever we want. With a wallet like Hiro, it is only us: we create it, we manage it, and we protect it.
You may think that it is easier to have a bank account because we do not worry about everything, but history shows us that in the current context of interest rates our savings lose value with inflation. In addition to that, our actions are supervised to such a point that the banks can freeze funds or close accounts without any right of claim.
Instead, anyone can open a wallet in a couple of minutes. There is no discrimination, it does not require personal identification, you only need a device (computer or mobile phone). You can take your funds wherever you want, you do not depend on any external company, so that no one but you have access to your funds, and they can never be frozen. Having a wallet is a great step towards financial freedom considering that you can have your money and transfer the amount you want (without limitations) when you need it.
Having a Hiro wallet allows you to experience basic actions such as:
You can receive and send Stacks cryptocurrency between friends and acquaintances or by using LNSwap as I explain in this tutorial: for the Spanish-speaking community: Exchange BTC for Stacks and vice versa (without KYC) -> Intercambiar BTC por Stacks y viceversa (sin KYC).
With your funds you can buy and/or sell Bitcoin NFTs from marketplaces like Heylayer.com, Gamma.io, Byzantion.io or Neoswap.
You can use your funds as collateral to borrow or give loans to others on Arkadiko.finance and Alexgo.io.
There are many things that can be done simply by connecting your Web3 Hiro wallet that little by little you will get to know because the ecosystem is growing by leaps and bounds.
Now, at this point, I hope that you have been able to create your wallet, and that you understand what it means to have one. Remember to go through the Free Smartists Course - NFTs + © -> Curso gratuito de Smartists - NFTs + © para enriquecer tu mente de conceptos básicos necesarios a tomar en cuenta.
If you want to create a Web3 wallet for your mobile phone with the same features as Hiro but having everything in the palm of your hand, then click here.
By the way...
✅ Connect your Hiro wallet to the app: https://smartists.net then become a member by creating a user account on the platform and request a free Mirlo NFT through the official Smartists Discord here https://discord.gg/93CzmEbHqg Limited places 👀
I send you all a big hug and wish you have a wonderful day!
Flower.