It was a really hot afternoon (43º Celsius) when I, Georgina Mauriño (founder and project lead of Smartists) started this presentation to share with the Smartists community what is the present stage of the project, and how the founding team face the next stages of development of the WebApp. This meeting aims to start a decentralisation in decision making as the project is growing.
[find videos at the bottom of the page]
Mission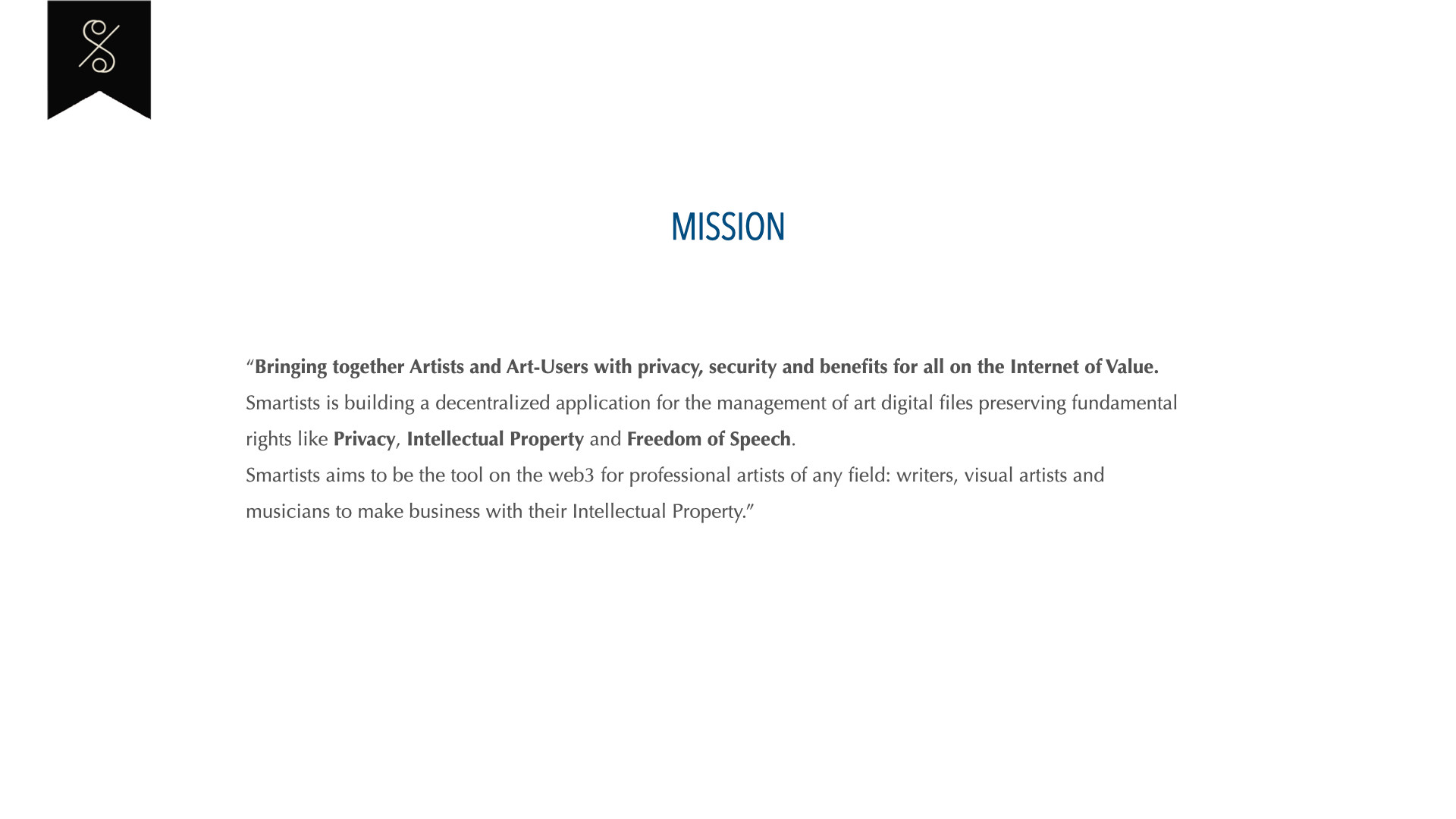 The starting slide reminded everyone about the mission of Smartists, and three main points were underlined:
Smartists is building software as a service, not a marketplace of any kind

Smartists wants to preserve fundamental rights like of Privacy , Intellectual Property and Freedom of Speech for users to be able to defend them.

Smartists addresses independent artists of any field.
Vision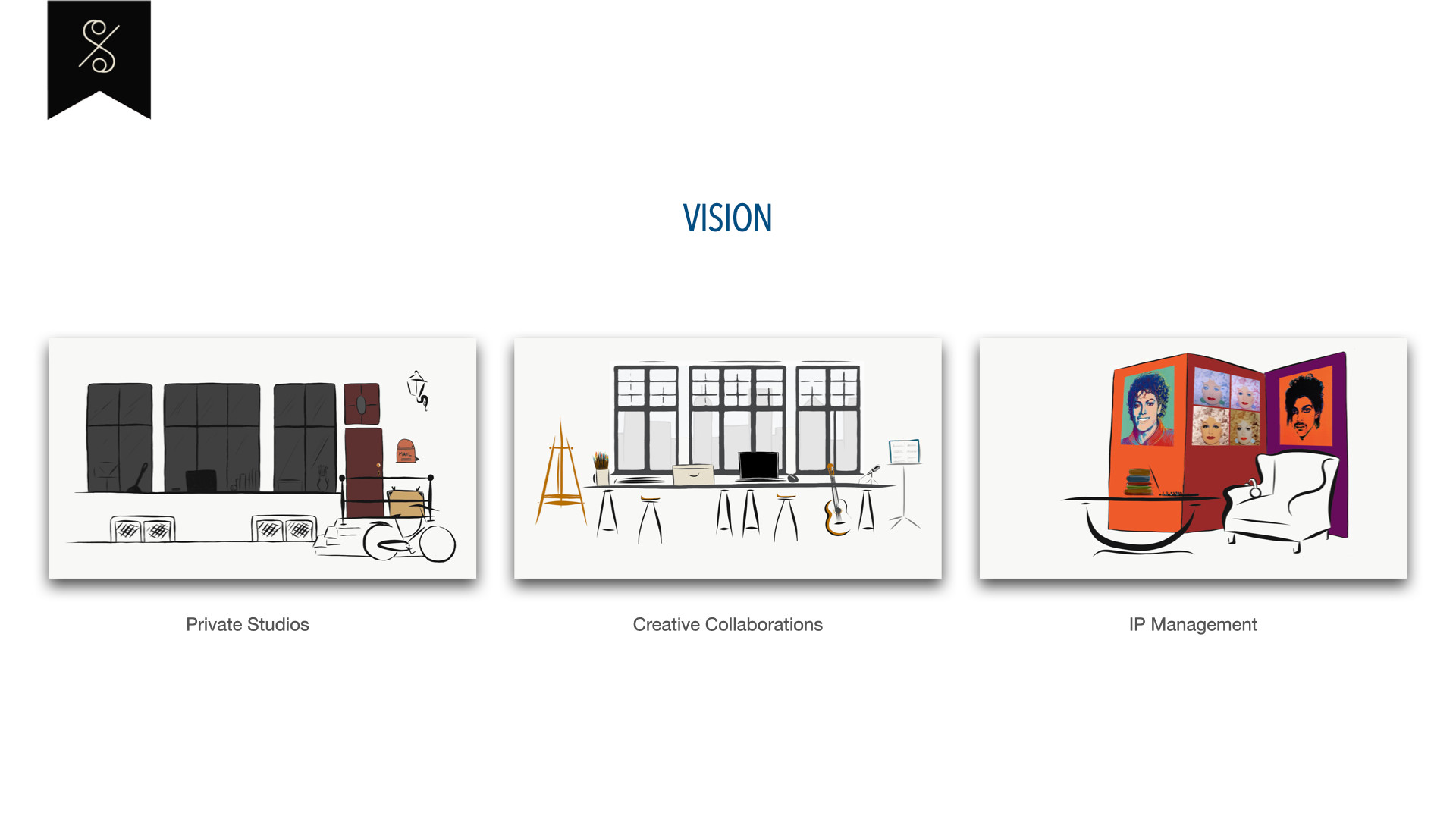 The Vision for Smartists was explained using the images from the Landing page which illustrate the kind of service we want to provide:
Private Studios

Smartists is like a neighbourhood where artists can open their own studios. To get in there you need to enter the web3 with a personal key, the Stacks wallet. These online studios on the web3 should allow in the Internet all those activities artists do in their physical studios: collaborate with colleagues, and receive the visit of clients looking for commissions or direct sales. Blockchain tech can enable this kind of services which were not possible on the web2. The inspiration and reference for Smartists is not the web2 but the actual experiences of artists in the real world.

Creative collaborations

Collaborations between artists from different fields is one of the major interests of Smartists. We are observing some collaborative projects on Stacks like the NFTs for Peace collection, and we would love to facilitate this kind of projects providing good tools for this.

Intellectual Property Management

On Smartists art-users should be able to look for their artists and connect with them in their studios, making deals where artists can rightfully manage their Intellectual Property. So, in their studios, independent artists will be able to mint their own 'Genuine NFTs', and attach a copyrights license, deciding what rights they want to grant when they sell their creation.
Our Journey from ideation to MVP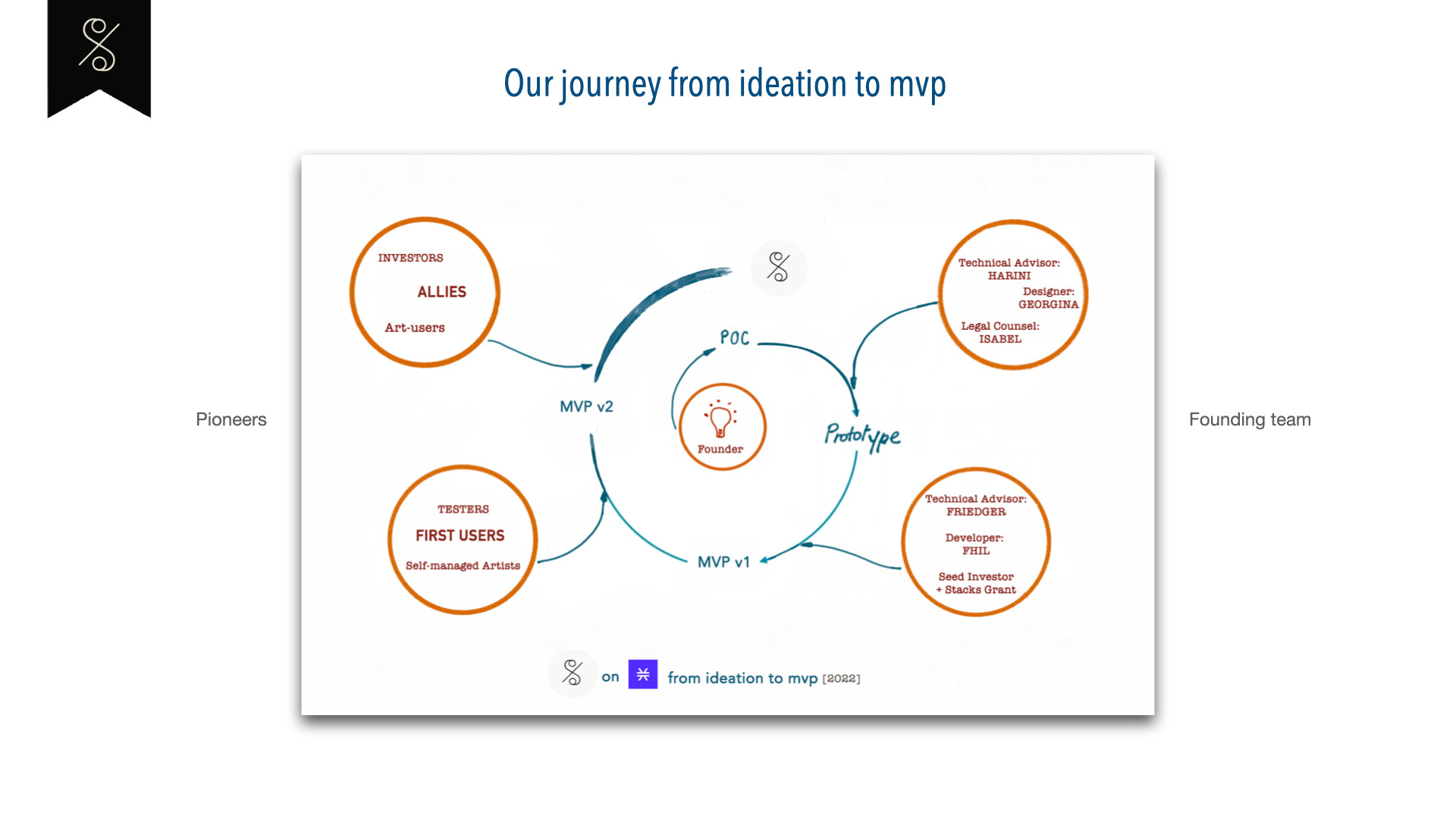 It has been a journey to go from ideation to the MVP we have now. Different stages with the participation of different Founding Members have made possible the development so far. We have tested the first MVP and the second MVP -including minting and selling NFTs with their licenses is in Tesnet-. Moreover some Smartists Pioneers are helping us improve and progress with their valuable feedback. So the wheel has covered a first round and is ready to move on to next stages.
Smartists Assets: what we have now
We have already some valuable assets: the MVP, some remaining funds, a community… and I want to acknowledge all those who have helped us get to this point:
Seed investors: Founder, Stacks Foundation and Mirlo Music.
Founding Members: Harini, Isabel, Fhil, Friedger and Daniel.
Pioneer Studios of amazing artists.
Future of Smartists: from MVP to Beta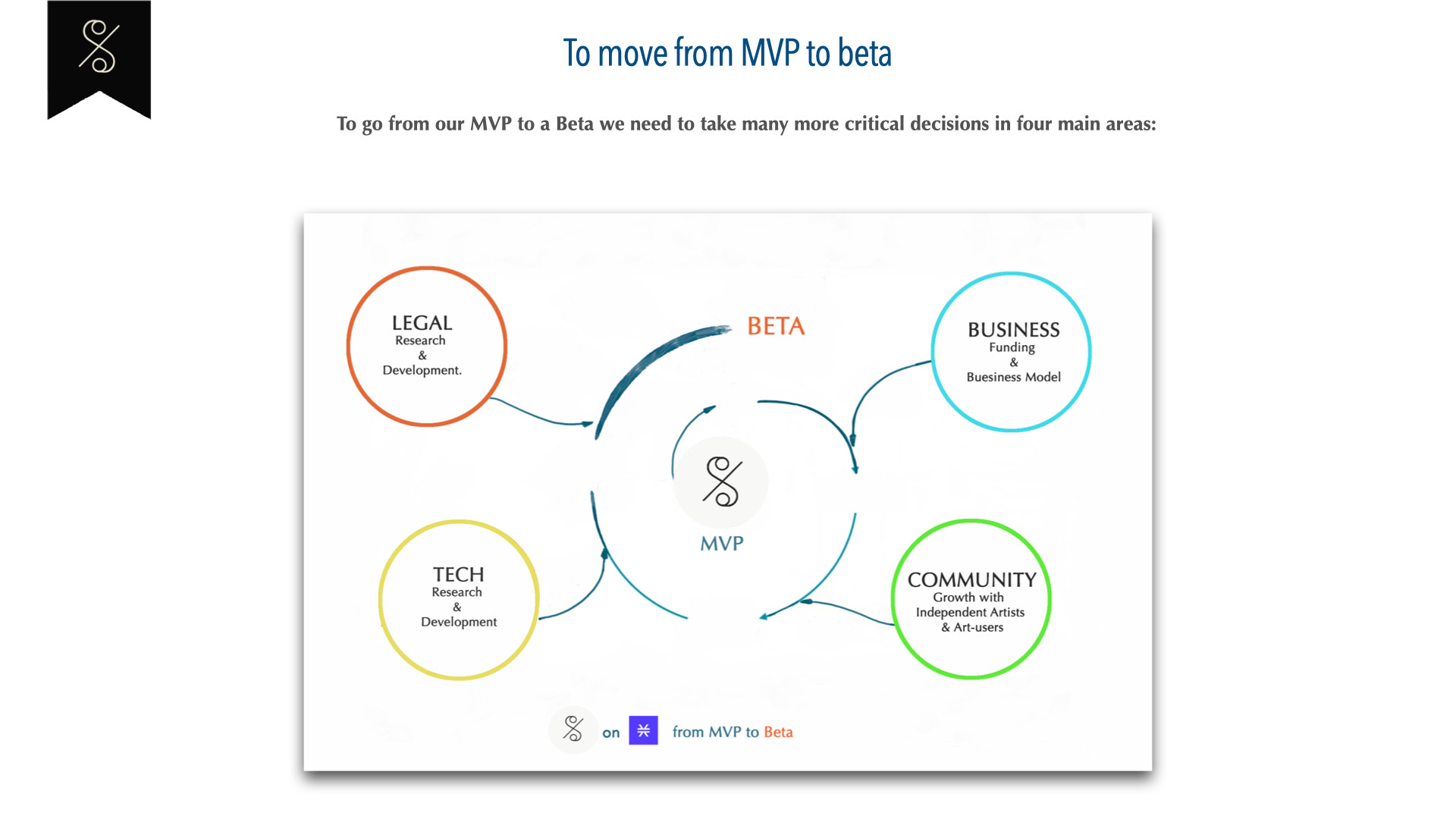 To move on we need to go from mvp to beta, and the upcoming decisions need to be made by more prepared members of the community. I, Georgina Mauriño, am proud and happy to have lead the project to this point, but as the project is growing, the future stages of development are overwhelming and my limitations could put at risk the future of Smartists. This is the reason why I think that the upcoming decisions should be taken in a more effective and professional way, also counting with the participation of the community.
This is like a car that needs four wheels to move properly, we will need to progress in four decision fields in order to get our Beta in motion.
4 BUILDING meetings coming up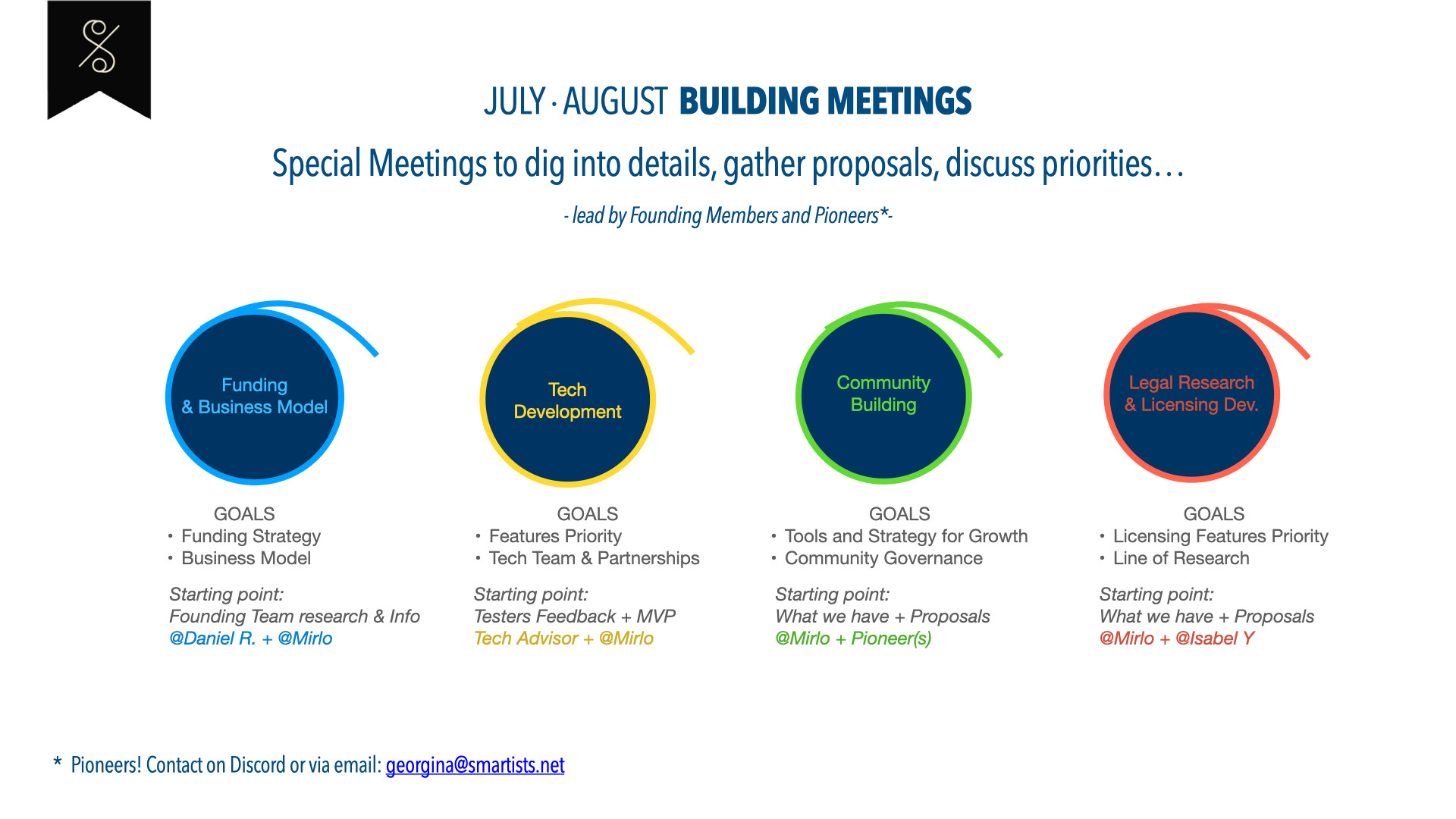 Founding team members and Pioneers are going to prepare four Building Meetings, which should be practical meetings. So, apart from bringing specific information (facts and data) about Smartists, they should help take the decisions we need to take asap, and move towards our goals.
Funding and Business Model -> Funding Strategy and Business Model

Technical Development -> Priorities (Internal messaging tools, UX-UI...) & Team

Community Building -> Tools and Strategy for growth & Community Governance

Funding and Business Model -> Legal features & research priorities
These meetings are being scheduled by the founding members, advisors and pioneers who will start taking the lead. They will be announced in the Discord as well as in our newsletter.
CTA: Pioneering is for everyone!
Everyone interested in participating as a pioneer in the private Discord channel can easily get a MirloNFT and /verify in our Smartists Discord server to access the channel.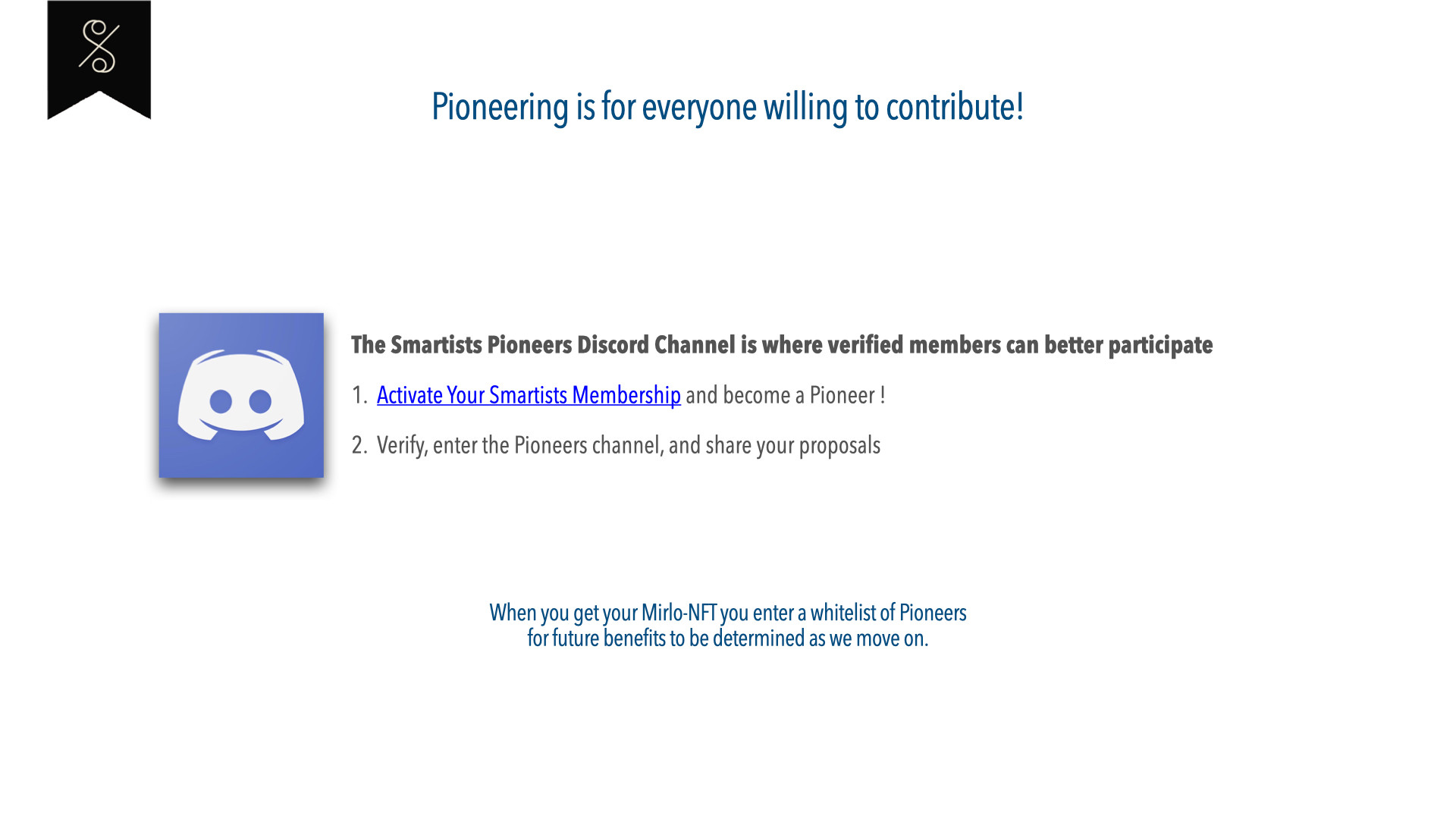 For those who want to receive our news you can sign up to our newsletter: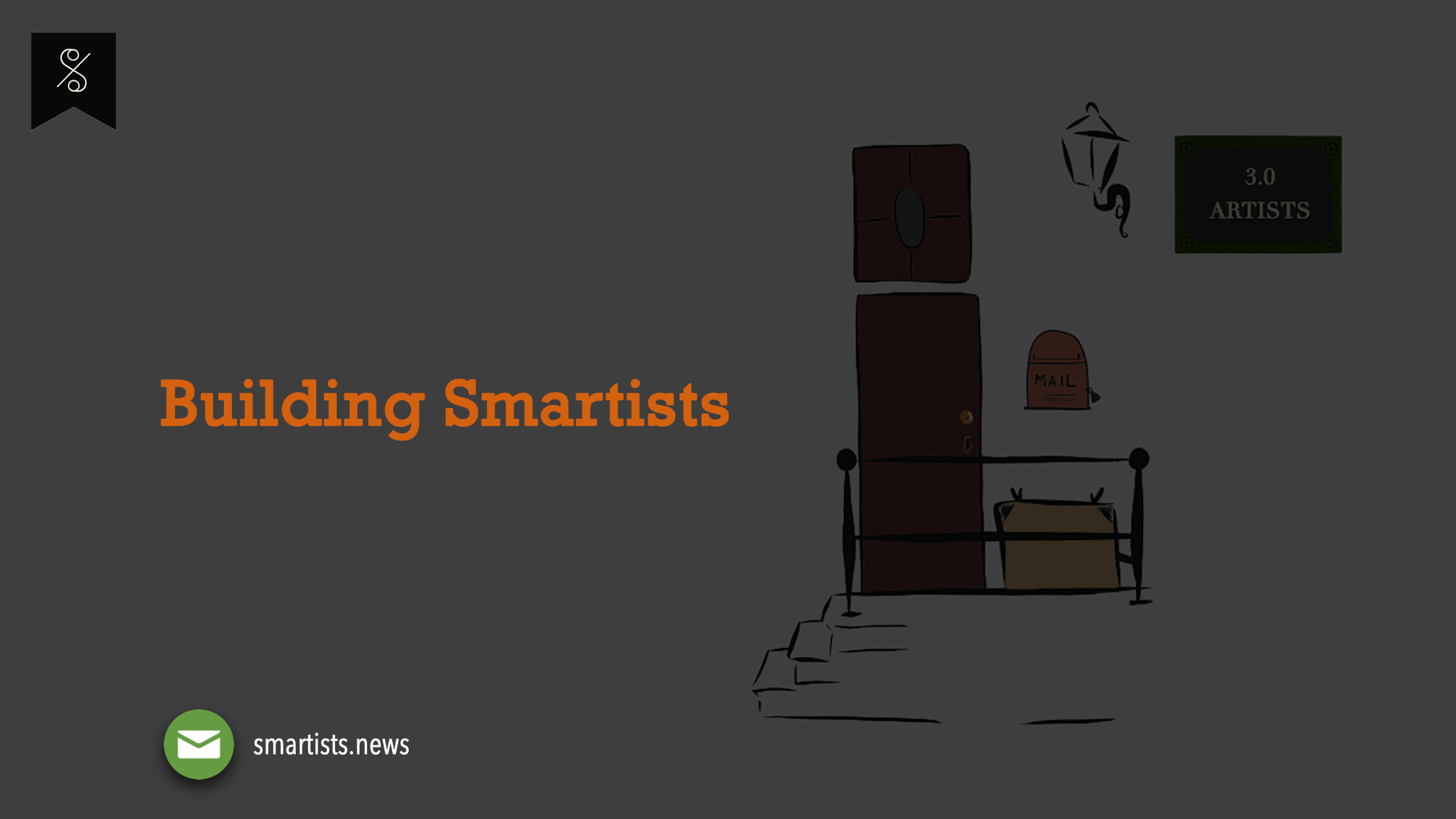 Before the end of the presentation we read some of the suggestions received to improve the headline in our landing page:
"Opening a world of value for artists collaborations "
"The App for Art Deal management on web3"
"The App for usage rights on web3"
"Your place for private art deals on web3"
Following this presentation, the attendees brought their views, comments and suggestions which were really interesting. Some even shared some resources to explore as we prepare our next Building Meetings.

VIDEO OF SMARTISTS AGORA:
1. Presentation (32 min): https://vimeo.com/730944864/d5c1453af7
2. Discussion (18 min) : https://vimeo.com/730949805/9b839ce095

Georgina Mauriño
Smartists Founder and Project Lead.