---
I am an author on the web3, and I am so happy to introduce you today Manuel Gimferrer, Mirlopiano on Discord!. He is a musician educated in classical music who is also an entrepreneur in the field of Digital Editing using his own performances and compositions, and collaborating with other artists in this new world of web3.
Mirlopiano
#1 What does Art mean in your life?
For me, Art is a legacy that we have received from our ancestors, and that we must preserve and transmit to the next generations. As a classical musician, I keep this in mind every day. When I create something new, composing or performing, I try to pay a small and heartfelt tribute to this rich and varied legacy. As an artist I belong to my time, but I believe that truly relevant Art is timeless human expression.
#2 What place takes technology in your everyday life?
In my day to day, I spend a good part of the time in front of the computer working... and sometimes getting distracted. Obviously, I listen to a lot of music both on my computer and on my mobile, and on CDs and even vinyl. And, above all, I use it to keep in touch with friends and collaborators.
But the fundamental technology for my work is what allows me to compose (software programs like Sibelius are essential), also the possibility of receiving online training, researching and analyzing the work of great artists, both composers and conductors, as conducting is my great dream.
#3 How did you discover blockchain tech? How did you decide to get into web 3? What would you recommend to newcomers?
I discovered web3 thanks to a relative who was involved in it... I was still living and studying in the United States, and it seemed to me something far removed from what I was doing. It was upon my return to Spain when I began to find out that it was an effective way to earn money, without intermediaries such as Spotify, YouTube, etc.
In any case, what I would recommend to those who are interested is not to get involved in this technology purely for speculative reasons, since that is not the objective of the blockchain. We've all heard of Bitcoin and Ethereum (especially when they go down), but one should remember that this new technology is not designed to speculate, but rather to give us autonomy, and that's very important for independent artists like me.

#4 Tell us about the decentralized Apps you use as a creator. Tell us which ones you are using and how?
Besides the Hiro Wallet (and lately also Xverse wallet), there are three dApps that I use regularly:
BlockSurvey for my research and feedback surveys/interviews.

Gamma to coin the NFTs of my publishing project.

Sigle to write an article…

#5 Tell us about your projects in the real world and on the web3
On the one hand, there are my projects for my editorial Mirlo Music Ediciones, in which I coordinate the production of Audiobooks and Digital Collectibles and other products - in Spanish and English -. This is a very young project, and by 2023 we have set out to release one title per quarter. In Q1 we launched The Happy Prince by Oscar Wilde with music by Claude Debussy, in Q2 we are going to get involved with a title that is an introduction to the world of opera for the little ones, Cancionero de Mirlo, in which I will participate with my piano accompanying to singers some arias by Monteverdi, Vivaldi, Glück and Mozart.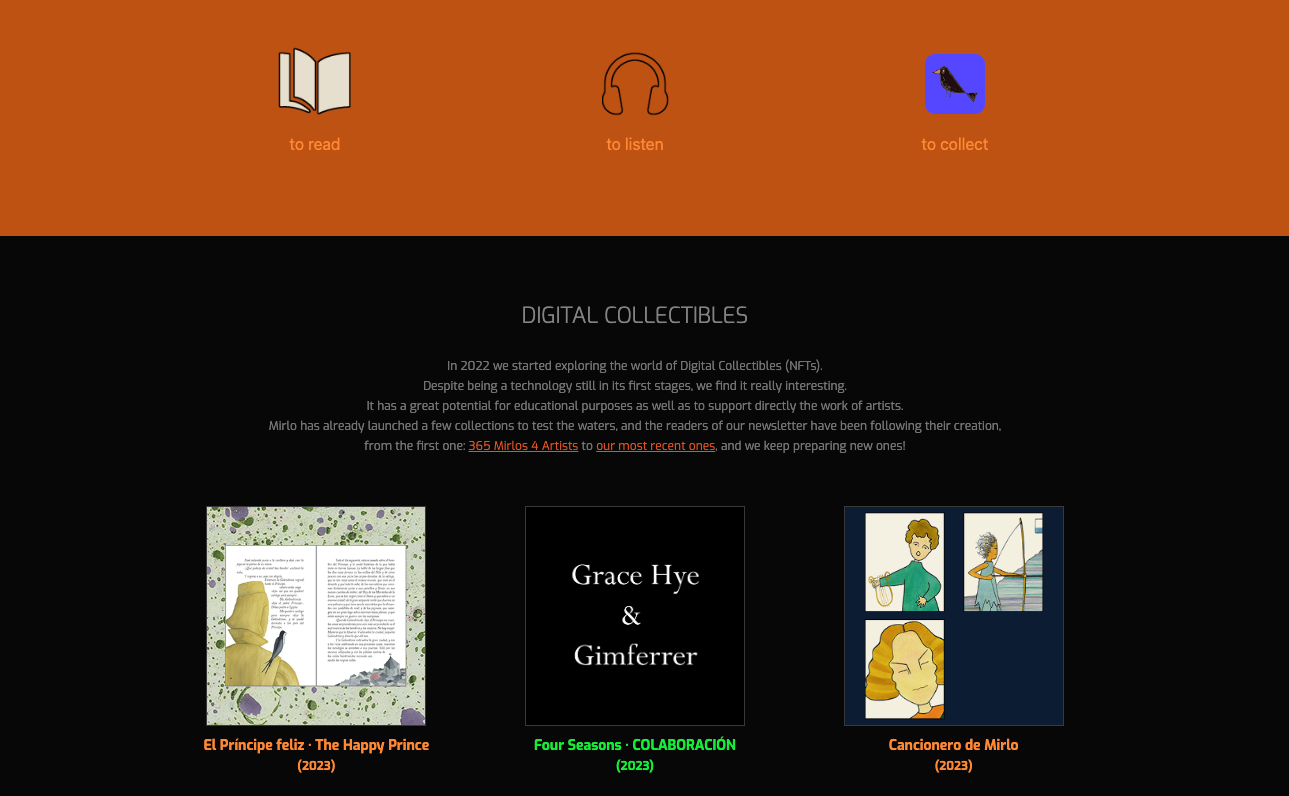 In these projects I combine recording in the studio, with video editing, and concert-presentations in the real world, although this is mostly in the private sphere, sometimes with streaming...
As a composer, it has been exciting to work in collaboration with artists who are already moving into web3. One year ago, I had the honor of participating in the NFTS for Peace collection. This year I'm collaborating with Paris-based Korean artist Grace Hye. I am coordinating the production of the audios for a limited series of Digital Collectibles about the four seasons. In my music for these Four Seasons, I've incorporated references to great musicians who have dealt with the subject, and from what I've seen of Grace's work, this collection is going to be something very special. These days, we are preparing the recordings with acoustic instruments with the collaboration of wonderful professional musicians: these pieces are for piano, viola, and cello. By the end of spring or the beginning of summer we hope to have the launch ready. If you want to know more about this project, the best thing to do is sign up for Grace Hye's Discord or Mirlo Music's Discord... or both, since each one of us is counting our processes, and it's very interesting.
#6 About NFTs. What is your opinion about Digital Collectibles? From your experience what are the pros and the cons?
NFTs are amazing, they are a blessing for artists because they allow us to earn money without intermediaries. In addition, you are selling and buying unique works. The cons? For me, at least so far, most NFTs aren't particularly "pretty", but that's my opinion. I also believe that the need for a wallet is something that, even today, is a barrier for many people, despite the fact that it is very easy to get one. Over time, I hope that its use will grow as the Internet has grown, and that artists can be valued more fairly for what we contribute.
#7 About your community. Do you have a community, an audience, a group of followers in the digital world? How do you manage the relationships with your connections?
I do have a small audience of around 550 people subscribed to my newsletter, which is my main means of communication. I've also opened a Discord channel as well, but there isn't much of an audience there at the moment. I admit that this is not my forte, but little by little I hope to make myself known and that the mission of our editorial attracts a true community of people who are really interested and want to participate. Mirlo's motto is "Cultivate your inner garden", and I think it is something that many of us need, especially the youngest...
#8 About the future of Art on the web. As an artist, what are your expectations for your work on the web in the upcoming years?
With the arrival of web3, I think a new horizon of hope is opening up for artists on the net. There are many advantages of eliminating unnecessary intermediaries, and for this reason I am convinced that there will be many renowned artists (especially from the world of music and painting) who will enter the new web3 to create exclusive content.

Thank you very much, Mirlopiano, for this interview and for your work and for your courage taking Mirlo Music Editions* to the web3.
See you soon, my friends!

Georgina Mauriño, an author on the web3.
* Mirlo is a character which has inspired Manuel (Mirlopiano) and myself during many years. Today, we both keep toghether pushing forward the project of Mirlo Music Editions where I contribute with my catalogue as author and illustrator.