It was the end of October, and I had been heavily involved with helping scale a project on Ethereum called "Cosmodinos". This is now a very highly respected and strong project in that ecosystem.
This is where it all began.
I had been involved in Crypto since early 2017, and like most who entered the space at that time, the huge pump was exciting, followed by a crypto winter, which was all about learning, but I tend to hodl, and didn't move anything out, and regret not moving more in, but, c'est la vie!
Anyhow, I digress, I was scanning NFT Twitter (as you do), and noticed TO post that the Crash Punks server had just gone, live, I tell the story like I was one of the first people in there, which is close enough to the truth, and too long ago to really remember. As the crypto/NFT cliche goes, a day in crypto is yada yada yada, like a year. But, it is true. For all I know, I have been doing this for decades.
NFT's, Snow Crash, Grace Ng, CP's had me at hello.
This led me to Stacks, not that I was unfamiliar with Stacks, in fact I looked at it back when it was Blockstack. Probably should have jumped in then, but, again, such is life.
Immediately I fell in love with it. Partly due to the fact Checkmate, someone very worth your follow on Twitter tweeted about it, and also, because it was secured by BTC, what is not to love? Why shop anywhere else?
I was lucky enough to receive WL for Megapont (a huge hats off to that team - an inspiration in the space) and, with a nudge from Checkmate, minted my allocation of 5. Initially I minted 2, and he said mint your final 3, so Checkmate commands and I listen.
My eyes lit up, I flipped my first two (regrettably - but for a very good multiply - at least back then) and had some STX to burn (is this a good thing?)
Someone posted about the Parrots in the CP server, so I jumped on Byzantion and blindly minted 5 (lol). At that moment I stopped and asked myself, "what have I just done?" Or what had I not done, research. So I jumped on the Stacks Parrots Twitter and then had a minor panic, had I just blown 140stx?
Our 2D collection minted for 28stx a Parrot (amazing value now!)
Some people would see this as a mistake, I saw it as an opportunity, again, like Cosmodinos, there was potential, and the project clearly needed someone to take it on the right path.
Due to my background in education, just like the Dinos, the Parrots needed someone to communicate effectively for them, make sure their announcements were grammatically correct, succinct, and made sense, make sure information is clear in the chat, ensure tweets made sense, the community engaged, trusting, respectful and cohesive etc etc, I started to notice this need for what is now affectionately knows as a "Community Manager".
So, what to do, I dm'd Mr. Stacks Parrots on Twitter, and informed him of what I had done for the Dinos, I offered my services to help with all the English, communication and community.
WAIT! Community, where is the Discord?
So, after thorough discussions, I became 1/3 of the team! Off to work, first and most importantly, and paramount forever, community. I became super au fait with how to set up a Discord server.
In fact, a side bar, but an important one nonetheless, I needed a team, and, amazingly, the very first NFT purchase I ever made, was on Polygon, by an artist called Pekebuh. Now, I knew that this very talented artist, was also very talented with Discord, bots, and is a WIP dev. And we had remained in contact after my purchase from him. I was his very first ever NFT collector. And he had forged quite the "online" friendship. So I wrote to him, and was only half way through my proposition, and he was in, and isn't that amazing that we were now working together. Shows how special this space is.
So we set up the server, and thought, right, a roadmap, we are ~170 NFT's deep into a mint of 888, we now had a server, the home for the collectors, but we needed more. A roadmap, a vision, a reason to own a Parrot.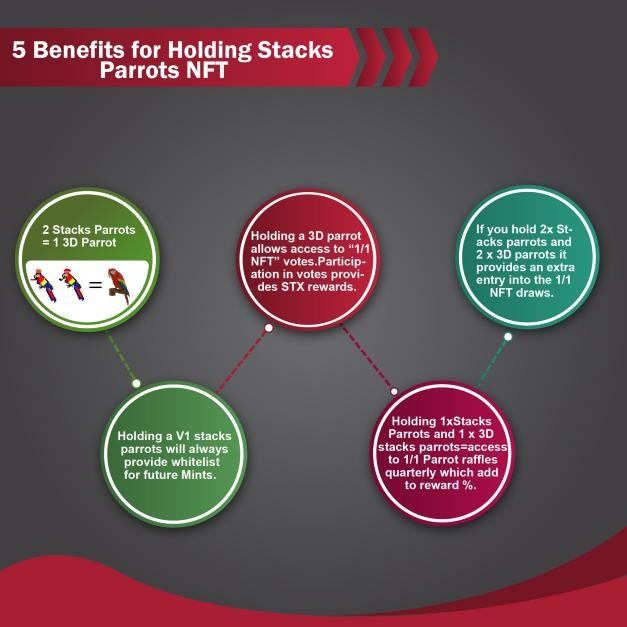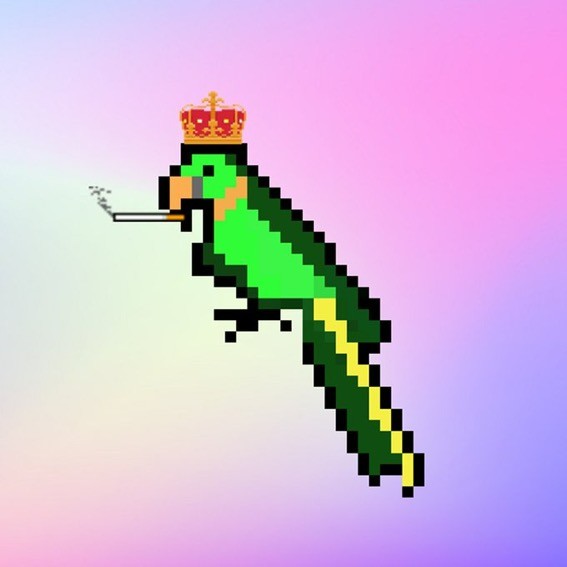 888 parrots didn't sit right with me, if we were going to mint out, that was just too many, we were a small project, and I have always thought, that like BTC only having 21 millions coins every, exclusivity is key, particularly when we were playing it the other way round, community and roadmap post minting, not how I would do it, but a wonderful challenge.
A little momentum, a direction, a roadmap (in the discord if you want to view it) and we jumped from 170-270 parrots minted. OG-Macaws airdropped for the first 99 in the server, have a pair of 2D parrots and "breed" an airdropped 3D parrot from our v2 collection, various other incentives for holding your parrots and collab drops. A donation to charity (https://www.birdlife.org/)
Things were starting to take shape. We even had an Instagram!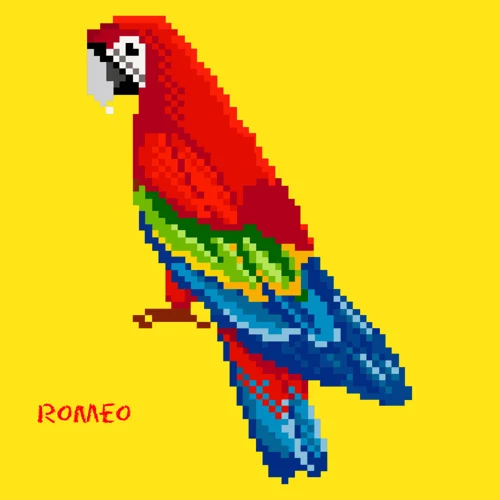 But, I still didn't want 888 in the collection.
So, burn baby burn, Plutus (co-founder of Byzantion) and I had an extremely fun time working this out, normally you would burn the back end of a collection, but we needed to burn the middle of a collection, parrots 271-757 were to face the unfortunate fate of incineration, let's just say (due to being secured by BTC) this burn took a loooooong time. But, was worth it.
But wait, why 402 parrots?
Well, there are approx. 402 species of parrots in the world. Pretty cool!
After the burn, the parrots flew, pun intended. We minted out 402 parrots, and sent 468 parrots to the fiery pits of a NFT burn.
So what next? How do we continue this evolution, we had organically grown our server, created an environment in the server where people just enjoyed being, no grinding, no cake making (thanks @mrk), genuine community. We had brought on 0xLoc as another mod, and things were going well.
Some highlights from this point:
- Hilarious meme competition
- Place Polly in the Picture comp
- Pekebuh developed Polly bot (which now features in CP server as well) which allows us to allocate points on a leaderboard for many different reasons, quizzes, trivia nights, little competitions, you name it.
- The 1/1 collabs had also started to take shape: Megapont, Project Indigo, Crash Punks, Bitcoin Monkeys, Alexander.btc (Blocks and Frontier) Stacculents, Madstar, boozy.btc,African Illusatrations, Commoners, OANMedia, HTL, ubayd, jambonepix and Immortal Butterflies (more to come too)
Full disclosure, I work for some of these projects as well, but not in the capacity in which I run the Parrots. So when I engage with and organise these collabs, it is out of the goodness of their hearts, and supportiveness of the Stacks community, as the rising tide lifts all boats, these projects have been unbelievably supportive of me, the Parrots, and Stacks in general. I genuinely cannot wait for the community to see these 1/1's when the time comes! In fact ubayd and jambonepix are from the Tez ecosystem, and two artists I love and own NFT's of, and have supported, and repaid the love with 1/1's for our Pandemonium of Parrots, quite special really. We were also sad to have a dear mod depart @clothemod who was an excellent team member, but she has moved on to some big things in her irl life, and we wished her the best!
So it was onto our 3D mint, our artists (and founders) expertly put together the voxel parrots!
This one can't stop thinking about STX.
We had organised to mint on both https://stxnft.com/ and https://byzantion.xyz/ who are both very good friends of the project, and have been amazing at supporting and pushing the Stacks ecosystem forward.
There was going to be a reveal period, mint on sell out was the plan, and again 402 in the collection, only about ~250 were available for minting, as ~150 were airdropped to our 2D holders (everyone who held a pair of 2D parrots bred 1x 3D parrot, so if you had 4x 2D's you received 2x 3D's and so on!)
The mint started with a bang and then slowed down, the whole crypto market was in a huge downtrend, which was shocking timing, but we kept our beaks up so to speak. With the vote of the community, it was decided to reveal with (wow I can't quite remember now ~100) left to mint, but, on speaking with Plutus from Byzantion, if we revealed all of them, the remaining ones in the mint would be able to be view, from a metadata sense, so people would know what was coming and this could obvious affect whether someone wanted the next parrot or not (even though I love all of them). So we did, a very new, and very unusual "DOUBLE REVEAL" and the parrots which had been minted were revealed, and the unminted ones remained unrevealed, cool right!
This led to a flurry of mints and regained interest, and whilst I peacefully slept (like an angel), we minted out, the server was blowing up, and everyone was waiting for "eliherf" to jump in and see the brilliant news. It was quite the site to wake up to, and I felt mightily chuffed, as the Stacks Parrots had grown purely organically, driven by community, with incentives that benefit the community directly. I might type community one more time, but you catch my drift.
Highlights post 3D mint
- Project Indigo - what an amazing NFT project, and one I am super proud to be a mod for, to own, and also for the wonderful Vandal to support the Parrots back. Owning a 3D Parrot earns a Wastelander extra TOX in their interactive story mode.
- Bitcoin Monkeys provided 50 bonus $banana for any Parrot holder who purchased a monkey.
- Madstar provided automatic WL for their upcoming mint for anyone who holds a parrot
- @aaroninalaska who is an amazing community member - provided a lasered piece for a raffle winner on Valentine's Day.
- Featuring in the "Reinvention" collection by @alexander.btc using a burnt parrot and creating a derivative artwork in this amazing drop.
- @mrk from Megapont very kindly gave us 10 Megakongs WL spots to raffle!
- @cirro became a mod and also working with Pekebuh helped redesign our website https://stacksparrots.com/
- @reubs.eth matching our 402stx donation from the 3D mint with his own 402stx, followed by an anon community member sending a 2D parrot for auction, with all stx from the auction added to our donation too, this fetched 225stx!
- STXNFT then dropped the winning bidder an airdropped 3D parrot to complete the pair and allow another entry into the collab raffles.
- Treasure Hunt featuring 12 of my most creative clues!
- More collabs and community involvement coming ASAP! Wish I could just share it now. But I shan't.
Our first collab drop is coming! Here is how it works.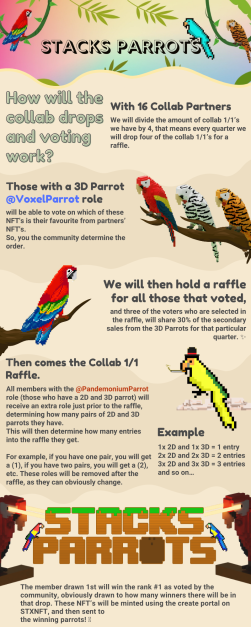 There is more to come in our evolution, there is merch on the roadmap, but, more than that, we have grand plans, and as our community, and the STX community at large knows, I never over-promise and under-deliver, quite the opposite, so keep your feathers preened, your eyes keen, and join the Pandemonium, and just keep squawking!
I am sure I forgot something in this piece, but I sure hope you enjoyed the read! Oh, and btw, I doxxed myself, because, that's the right thing to do! Nice to meet you I am Brett Herskope.
This article goes out to all that support me, too many to mention, you know who you are, my family first and foremost, putting up with a NFT/Discord addict, of course my team, and the founders, who entrusted me to get us to this point and beyond!