Mining for City Coins
I first discovered Stacks in mid 2021 when I heard Patrick Stanley's interview on the Pomp Podcast, and looking for something to be early on with potential upside (as well as getting behind a great project called City Coins) I joined the Syvita Mining Guild (RIP), and continued to familiarize myself with the greater Stacks ecosystem. I was immediately pulled in and started exploring NFTs on Art On Stacks (RIP!), then Byzantion (now Tradeport), as well as stxnft (now Gamma.io). Watching the ecosystem grow was incredibly exciting and I began to entertain the idea of releasing my own NFTs. I've been a photographer and a musician my entire life and was ready to dip my toe into the shark infested rug laden waters of Non Fungible Tokens. In October of 2021 I had gathered the 100 images that would comprise my collection for Venice Visuals and created a rather detailed spreadsheet with various traits that I turned into a JSON file with rarity scores and traits. There are 27 different traits that include things like Skateboard, Bicycle, Electric Scooter, Surfer, Silhouette, Rolleicord 120 Film, Motion Blur, Reflection, Bird(s), Black and White, Lifeguard Tower, Harry Perry, Lens Ball, Abbot Kinney) and included it in my submission to ArtonStacks.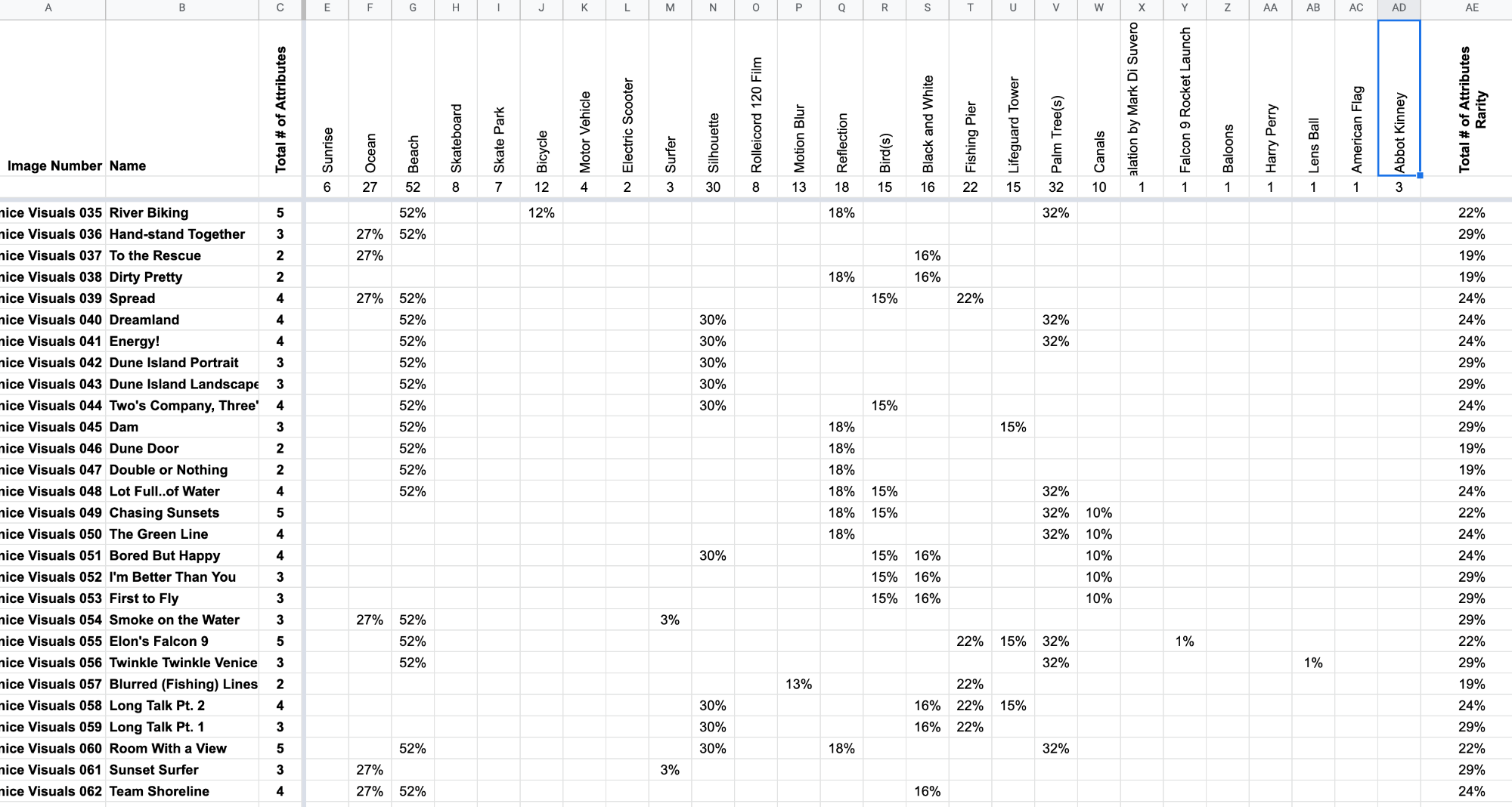 Communications were slow and weeks often went by before hearing back from the mysterious person(s) behind ArtonStacks, but ultimately Venice Visuals was launched on January 17th 2022. It was not the first photography collection released on Stacks (it was the third), but it was and is still the largest, and represents some of my best images captured between 2017 and 2021.
The Bear Approaches
Having to wait three months to release Venice Visuals was tough because the market sentiment had changed so much. Days before the mint, Alexgo.io jammed the Stacks network and brought it to a screeching halt. Macro events started to throw their weight around too and the entire crypto space started getting dark. The price of $STX was falling hard too and I was releasing my beloved collection when there was blood on the streets. In the time I spent waiting for ArtonStacks to release Venice Visuals I had also prepared my first music NFT for release, this time with Byzantion thanks to the help of Plutus. Proof of Swing is a bebop (jazz) tune I wrote, based off of the "Bird Blues" chord progression, named after bebop saxophonist Charlie "Bird" Parker who wrote and popularized the progression, most famously heard on, Confirmation. Rather than just release an mp3 I opted to create a music visualizer video, an element that would be used on all of my future music video NFTs. The auction went live on January 20th and abreu.btc came in with the top bid.
Minting for Venice Visuals was slow and steady and as more and more members of the community minted I continued to make new friends in the ecosystem. Alex Rudloff quickly became the biggest Venice Visuals whale and minted ten, three of which he used for his brilliant Reinvention collection, released on February 11th. It was around this time that the Airdrop Show  was just getting started and Phosphorus and Rawion were gracious enough to invite me on. If you are in the Stacks community and haven't listened to all of their episodes I highly recommend checking them out as most of the biggest projects and people in Stacks shared their backgrounds and brilliant insights on the show. The guys are gracious hosts and really bring out the best in all of their guests. One memorable part of our conversation was about the need for virtual galleries and other ways of better-interfacing with our beloved NFT collections. You can imagine how exciting it was for me (and all of us) when the brilliant EoMGames, ciroxyz, and eliherf1 released their Parrot Gallery and later Parrot Radio, both of which are incredibly appreciated and helpful in attracting artists and collectors to Stacks.
Proof of…Utility
The concept of utility is often discussed in relation to NFTs. While some believe utility is essential, others argue that the intrinsic value of the art is sufficient. As a creator, I encourage other artists not to feel pressured to give their art a specific utility, especially if it detracts from the quality of the artwork or is unrealistic to maintain. However, these discussions on utility inspired me to create Proof of Play, an NFT that serves as a certificate for a one-hour music lesson with me. The experiences have been incredibly rewarding as holders have exchanged their NFTs for music lessons for their children, performances, and Q&A sessions. One of my "students," Jamil, quickly made amazing progress as he learned finger style technique on his new nylon string guitar. You'll be seeing his name pop up a lot here, btw. I will always remember our first video conference and how gracious he was in answering my questions and how accessible and helpful he was as I continued to release my collections on stxnft.com. I am grateful to Jamil and the team at Gamma.io for enabling artists to release their work on Stacks and find our audience.
RIP ArtonStacks
What happened to ArtonStacks? We may never know, but after the site stopped working and I received no response, Jamil saved the day again by bringing the remainder of the collection to live on Gamma. I continued to offer various giveaways and mint-one-get-one-free promotions and after a few months the collection officially minted out. AaronInAlaska spent hours meticulously giving his LaserMyNFT treatment onto my favorite image, All Skaters Go To Heaven, which FireFlyWash picked up on secondary. FireFlyWash now holds the laser burned wood version that Aaron sent him in the mail. Hmmm….that sounds like some sweet utility!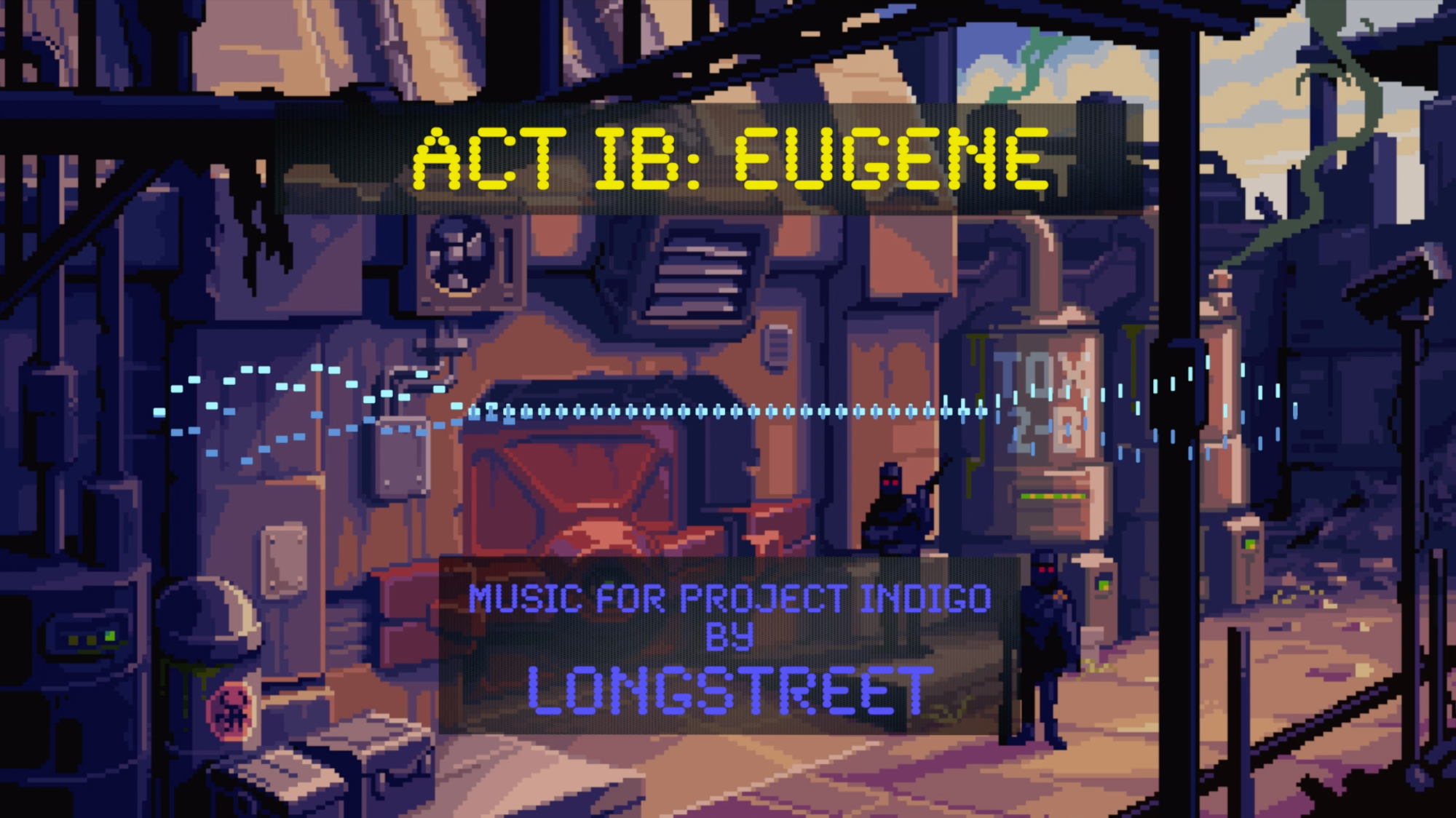 Project Indigo
As I continued to learn more about the many amazing projects on Stacks I grew keen on doing more collaborations and was presented with a very synergistic opportunity to provide music for Project Indigo. Vandal and other community members created a playlist that would provide valuable inspiration for that music that would be crucial in creating a rich world and enchanting playing experience. The release of The Project Indigo Act 1 Music NFT was the first time I had the exciting pleasure of witnessing a project mint out in a matter of hours. The collection of 150 NFTs minted for 40 STX each and are now available on secondary on the Gamma website and thanks to the low low price of $STX (currently pumping all the way up to $0.25!), they're "free." Chapter 1b, released in March, would take us deep into the mysterious and spooky lab of the very sketchy Dr. Eugene, whose credentials are about as suspect as those of our favorite fake metacal doctor, Dr. $u$$ - more on him later. The music NFTs for Chapter 1b released in March can still be minted for 40STX each and dare I say, look and sound pretty great when enjoyed in the Parrot Radio app. 
FREE!
Six weeks into my NFT journey on Stacks I had yet to release any airdrops and wanting to engage more with my bns brethren I offered a free NFT to anyone with a .btc name who dropped it in the comments to this tweet. As a result Descanso Motion Blur  was airdropped to 120 people on March 2nd. Motion Blur is a technique that I've been fascinated with for my entire life, even when shooting on my dad's 35mm Minolta camera as a kid. Using the motion blur technique, a photographer intentionally slows down the shutter speed to capture movement in the frame, creating blurs resulting in a completely unique image. I followed it up with a similar image called Descanso Motion Blur - Forest of Light, this time as a 1/1 auction for which Aaron was the highest bidder.
Traveling abroad in the Nonnish Kingdom
Another early Stacks collection that premiered on ArtonStacks was the bespoke Shafts of Light - all hand-drawn one-of-ones by the brilliant artist anonymously known as Ronin. Divine are the ones who minted back in the Stacks days of olde. My entry into the Kingdom's inner circle would come much later but how could I not after finding this incredible community, co-lead by the incomparable PQ and Pryzm. I was very much inspired by this world and after Jamil introduced me to some friends at a Stacks party in LA as, "the guy who does all the music for Stacks," I figured I'd better keep hustling so I picked up a guitar and starting writing a couple "Nonnish Themes." First I released Nonnish Proof of Piano (a 1/1 now owned by franscisc.btc) and later Baskethead Bourree (a 1/1 now owned by icearc.btc). I created Proof of Piano as I was documenting my experiments creating ethereal drone sounds by bowing a piano string. This technique was inspired by Stephen Scott's Vikings of the Sunrise. I used these drone sounds to make the "mushroom trip" version of the soon-to-be-released Nonnish Kingdom music. I'll explore these pieces in more detail in another article when they are released, but what I will say now is that this collection of 101 music visualizer videos will include new artwork by Ronin including a 1/1, and will all have varying degrees of shroom yield. Hmmm…that sounds like utility too. 
Together with Gamma
In late April, shortly before Jamil and Nick Sainato rebranded stxnft.com to Gamma.io they reached out to many of the incredible artists in and around the Stacks ecosystem to contribute to a collection called Together with Gamma. For this collaboration they asked the Stacks Photography Guild (co-founded by myself and the GOAT of photography on Stacks, Levi Harroll (oan_media), with the help of Brett Herskope (eliherf)), to submit three images for the collection. Each submission had to be square and, as Gamma co-founder Nick Sainato put it to us in his discord message, "point back to the theme of 'people coming together through Bitcoin and Web3.'" In addition to the pieces that Levi and then SPG featured photographer Andrei Runcanu submitted (click the hyperlinks to see their beautiful work), I created a bespoke image to capture the essence of the prompt while combining my love for Venice Beach and motion blur. To create Digital Ghosts, I loaded up my backpack with my camera, lenses, tripod, and some fiber optic sparklers, and walked to the shore at sunset. I set the camera up facing the Santa Monica/Malibu mountains and opened the shutter for 30 seconds. I walked into frame and stood as still as I could for 10 seconds in each position while waving the wands around my body, resulting in two semi-silhouetted characters (representing anonymity) connected by ethereal blue electric lights (representing the many ways Web3 connects us).
Satoshibles
Another stand out community is that of Satoshibles, led by Bruffstar.btc with artwork by Ayyoub Bouzerda. They were holding their Wild West Showdown and I recalled a western themed piece of music I had lying around that I had created with guitar, flute, tambourine, and a very Spaghetti-Western-style whistle. I sent it to Bruff, and he made a slick little video with it, featuring the winning Sat.
The Bear Necessities
Things turned pretty dark around May in the web3 space. The rugs kept piling up and the prices kept falling down. Projects that didn't die at least lost steam, reorganized and reassessed their "road map," and hunkered down in preparation for crypto winter. Winter was coming. It was already here, and yet it was also still coming. We all reminded ourselves about the importance of avoiding leverage, DCA-ing, self custody, and relationships. I am fortunate to be blessed with a beautiful family and the highlight of my day is always returning home to my wife and two kids. My son's favorite movie during this time was the original Jungle Book and one afternoon I walked in the door and heard The Bare Necessities playing, and I started thinking about parody lyrics to amuse myself/console myself. The next day it was still ringing around in my head so I gave it an earnest play on my guitar and thought it was clever enough to bring a few smiles to all of you, so on my lunch break I set up a camera and recorded a little one-take performance of The Bear Necessities with a bit of an Andrew Bird-inspired whistling intro. Thanks to all of you who RT'd and shared it around the community and for joining me in a little chuckle while we took a little break from feeling sorry for ourselves. Also, a special big thanks for all of you who bid on the auction, and beu.btc for securing the top bid (whoever you are). 
Generative Music - NFTs for Peace
I was very lucky to meet Anibal, a man of many talents who might literally be the smartest person I know. He approached me with an opportunity to collaborate with the great pianist/composer Manuel Gimferrer, and his friend and Python coding whiz Adrien on a collection of computer generated pieces called NFTs for Peace. Anibal acquired a piece of art by Cuban/Miamian artist Gonzalo Borges, based on his impressions of the invasion of Iraq. Manuel Gimferrer composed the original piece of music based on this theme, and I arranged the music for orchestra and synthesizers. It was a monumental endeavor, by far the most time intensive project I've ever worked on other than Kong Fu (more on that later). I ended up creating over 70 tracks, each split up into 6 segments - that's over 420 tracks (for you non math-majors out there - and also a very auspicious number for every self deprecating degen). The process was arduous and tedious, but always fun. Every segment had to be mixed, exported, and labeled perfectly so that any computer-generated version sounded great. It really was a monumental project and one that deserves more attention as it is completely unlike anything out there, and is one of the first of its kind (it certainly is on Stacks).

I'd love to do a more in-depth write up and to talk more about the community members that made their own "human generated" arrangements, specifically jim.btc, and francisc.btc, but for now you can read more on genmusic.art and can view the collection on Gamma. Last Fall we came up with an idea to revisit the project and put a bit of a "Miami-inspired" twist on the music, for which I added some beats and news synths, and Anibal gave a more vibrant treatment to the art. You can view all of those versions here and get a mint pass that you will be able to exchange for your favorite when they are released. Wen? Soon.
Bitcoin on Venice Beach
Always itching to do more long exposure photography, I had a vision to use sparklers and cardboard Bitcoin-B-shaped cut-outs to create my next collection. I was really pleased with the images and I released my 7 best shots on Gamma, 2 of which are still unminted. I did a more extensive write up in my first Sigle article which you can view here, if you like to "keep an open shutter," so let's keep things rolling.
3Hunna the Artist
There's so much to say about this incredibly talented and humble man from Zimbabwe. I encourage everyone to read Jack's article on Sigle about him to get a good idea of where he's coming from, and the value he brings to everyone in his community. We first collaborated in February with Proof of Play as he did a bang up job creating the artwork. Then out of the blue he sent me this incredible track that he produced featuring his powerful vocals gracefully singing over a section of the music of the  Project Indigo 1b music NFT. We released 50 copies of WastelandMusic in July (there are still some available to be minted too). Looking for a way to return the favor, fate handed me a golden opportunity when he released God Did, a raw a cappella banger that I minted and imported into Logic Pro in order to create a fully produced arrangement. This was a fun challenge, and one that required a lot of splicing and time stretching. 3Hunna's original was more of a freestyle, and I discovered that the tempo had little changes throughout and gradually sped up. It was a fun challenge and I was quite excited to send it to him as a little surprise. He provided his video visualizer treatment (he's got a gift for After Effects), and named it We Did. You can grab a copy (and enjoy it in your Parrot Radio app), for 15 STX. 
La Tour et Les Nuages
I traveled to France with my wife and two kids over the summer. Originally we had not planned on staying in Paris, but after we drove in for a day we quickly changed our minds and my wife went bargain hunting on AirBnB. We found a tiny apartment on the "5th" floor (it was actually the 6th floor - I want credit for climbing up every single step in that charming old never-ending spiral staircase), with a charming view of the Eiffel Tower. I set up the tripod and grabbed a time lapse of the iconic tower with the puffy summer clouds floating by. When we got back to our place in Rouen I wrote a piece of music on guitar to accompany the video and released La Tour et Les Nuages as a 1/1, for which bue.btc (who are you!?) placed a precision bid in the last block and doubled their collection of Longstreet 1/1's. Again, thank you, whoever you are.
Bringing Bangers Back
Well, the word "bangers" isn't really accurate, but I liked the alliteration. There are two tracks I made years ago (69 years ago if you count in crypto years) that I revived and released on Stacks in the Fall - Moon Tide, and The Girl from Stacks. You can still pick up Moon Tide, a calming little piece of music great for relaxing and falling asleep to, for 5 STX. But something went wrong with the contract for The Girl from Stacks (the name is a nod to The Girl from Ipanema), so I guess you can say it's become a limited edition. The floor-price is now in the hands of the 34 diamond handed early minters.
I'm Broke as Shit
Now this I can confidently say IS a banger, thanks to the contributions of our aforementioned favorite fake doctor, metacal director Dr. $u$$, and the prolific and wildly imaginative Boozy. One of the most amusing chapter is 2022 was the Goblin.wtf phenomenon. The good doctor sent me some alpha as they were blowing up and I quickly skipped the "wtf, what is happening here," phase and went straight to "how can I help?" He insisted that Boozy and I slide into each other's DMs and between the two of them I had enough material to devote a master's-degree-worth of time into exploring the dark piss-laden floors of Goblin Town. This track also deserves a separate article and a video deep dive but that will have to come later. I combined two themes that I heard on loop in the various Twitter Spaces, and incorporated plenty of Goblinisms, courtesy of Boozy and Dr. Suss. Here are some screenshots of the goblin gold that the boys sent to me for reference. We reached out to our "dads" (mrk.btc and jamil.btc) for help releasing this as a free claim on ETH for all Goblin holders and Megapont Apes, and few months later I released a limited supply on Gamma (69 copies, 6.9  STX each, ofc, ferdaculture). Check out the ETH mint page made by Boozy, and if you're looking to add one to your collection you can find some on secondary on Gamma.
Bringin' Back Bach
One phrase that gets thrown around a lot is "we're so early," and this is especially true in Stacks. Provenance is one of the benefits we all enjoy here and being able to say that I was the "first person to release the music by J.S. Bach on the bitcoin blockchain," is a fun novelty. When Gamma announced that they were accepting submissions for their Peer-to-Peer: Community Collection I began considering how to capture the essence of their prompt on equity. I decided to use Bach's Two Part Invention No. 4 because it's performed by one player (with both hands). I thought about assigning each hand a "voice," and hard panned the hands in the left and right speakers so that the listener, when using headphones, could experience each "voice" in isolation and ultimately realize that the music is best enjoyed when both voices can be heard together in harmony. I made a music visualizer video featuring two planets each encircled by the visualizer bars that seem to reach out to one another, longing for connection. When I read in the announcement that this piece was included in their collection I felt quite proud. This is a special collection and all proceeds went to the International Women's Day Charity Alliance. Three cheers again for the Gamma team.  
Bach to the Future
I was keen on doing another more ambitious piece of music and giving it a similar treatment as I had for the Two Part Invention No. 4. With Halloween around the corner, the obvious piece to me was another piece by J.S. Bach, perhaps his most well-known, Toccata and Fugue in D Minor. I arranged it for orchestra, multiple organs, and synthesizers, and used the sound visualizer bars to represent the different parts of the organ that are played by the performer. The bars on bottom represent the notes that are to be played by the pedals of the organ with the performer's feet. The sound bars on top represent the music that is to be played on the "manuals" and the sound bars on the left and right represent the music that is to be played by the left and right hands. These sound visualizers are designed to draw attention to the demanding technique required to perform this piece, and to highlight the genius and complexity of this quintessential composition. It's an epic piece of music (over 8 minutes long) and this little side project became all consuming very quickly, especially as I wanted to get it out by Halloween as a limited edition set of 66, at 66.6 Stacks each. S/o to Nick again, who taught me the simplest bit of clarity coding so I could set the price with a decimal.
This is Halloween
This was a fun little one-take performance of This is Halloween that I arranged for nylon guitar, and airdropped to 60 supporters in the community as a thank you. Thank you!
A Month Off
I didn't do anything in November, apparently. Oh wait, that's because I was working on music for Megapont's epic storytelling NFT experience, Kong Fu. It was a glorious work of art that was deemed a commercial failure so it's on hold for now. The incredible artist and writer Steve Abbananto created an immersive world and the dev team created a seamless minting and playing experience. You can still check out the beautiful website here, and watch the Prologue on instagram. I'll get the music out at some point because it's not half bad, and could make a nice addition to anyone's playlists on Parrot Radio.
Farewell 2022!
To close out a wild and eventful year I released a couple music NFTs including A Jazzy Christmas with Longstreet, a collection of four pieces performed on a ridiculously tasty Gibson L5 guitar that included The Christmas Song, Let it Snow, Christmas Time is Here, and Santa Claus is Comin' to Town. And as a farewell, Auld Lang Syne. 
Hello 2023!
2023 is not off to a bad start. While I've been writing this article Bitcoin crushed through $20K and Stacks pumped to $.25 and beyond. I also released the "Ska" style edit of the Airdrop Show theme music that I had written a few months earlier. I airdropped this version to holders of Venice Visuals, the Project Indigo music NFTs and all Stacks Parrots holders, in honor of their much anticipated Parrot Radio. 
It's been a long year, almost as long as this article! As we often do, I too spend much of my time with my head down, working, pushing forward through the bear market, and trying to keep up with the other amazing artists in this space for whom I have a tremendous amount of respect. Never in my life have I felt this enabled to pursue so many creative endeavors and collaborations and it has been incredibly rewarding to invest so much time and energy in this space. Thank you all for your support, and thanks for sticking around to the end. It's gonna be a good year, and I'd like to end with a few words from The Bear Necessities:
"…and then one day you'll be in the black, just thinkin' about all the sats you stacked and then maybe you spend a few! The bear necessities of life will come to you."
---