Hey Whales!
First we wanted to thank the community for the huge success in the mint! We sold out and the remaining whales in the public mint were gone within minutes! We've been in the top rankings in terms of daily volume since we minted, and we thank you for that.
Now, grab some popcorn and get comfy as we have quite a newsletter for you today! We'll start with an introduction and then doing a breakdown of our roadmap. This newsletter serves to explain our mindset and direction this project will go in. We also have some surprises for you at the end!
Madstar was created by a group of friends (or rather frens) with the intention to develop a community-driven project that connects NFTs to real life. While there are various great projects in the STX NFT space, we believe there isn't one in which the community truly has power and influence in decisions. Madstar strives to fill in that void. With the input of the community, we aim to build a strong project that constantly innovates and stands out for connecting NFTs to real life. Our innovation does not center exclusively on NFTs alone, but on decentralised finance too, and its integration with NFTs. We're working on making Madstar a bridge for companies to enter NFTs and Web3. In fact, we've started to work with local companies here in Barcelona, Spain, about this matter. However, Madstar's ambitions go beyond that. Recall our plan "Save the Whales". This is a community effort component of our project that brings real, tangible benefits to society through our mission to help the whales.
We saw many comments asking for more information about the roadmap. For that reason we've included a breakdown of our roadmap below.
---
Madstar Website Transformation
Up until now we've had a website with the purpose of displaying information about the project such as a bit of a backstory to the Madstar universe, a simplified version of our roadmap, and information about the team. We wanted to provide context about Madstar. Now that we've minted and ready to go, having a website must serve a greater purpose.
For that reason, we're currently working on a complete website transformation, first by changing the domain from a .com to a .io domain. That'll make the website more flexible and benefit of a more creative extension. We're working on allowing our holders to connect their wallet and have access to many tools and activities such as Web3 video games and 3D experiences. A big part our new website will be the interactive roadmap of the whale endeavour, where the user will be able to interact with it and focus on specific points. We've got more things planned to deploy, though we're working behind the scenes to have it all ready and drop it as a surprise without previous warning. New sections of the website will include a constantly updated story and merch store. More information about that later on.
---
Madstar's HBack Whale Club Mint
As a community, we've completed our first step in the roadmap and completely populated the HBack Whale Club after doing a full mint.
Recall whale holders will gain access and be participants of the story mode component of Madstar called "The Whale Endeavor''. Here lies part of the utility of our NFTs, and arguably the most exciting for you as it deals with Web3 video games. There's more information about this later in the appropriate section.
Moreover, our holders receive exposure to achieving whitelists on other projects, not only on Stacks, but in other chains too. Each HBack Whale represents a pass in order to achieve access to our future mint and voting power in the important decisions we undertake. A fun reward we have for our holders will be that they'll be eligible for airdropped collab mints! More projects have contacted us since mint wanting to do this.
---
Save the Whales Plan
We've been preparing a separate newsletter to explain the Save the Whales plan, as it is of upmost importance to us. We received many comments from you in which you highlighted how excited you are with this. We can't put into words how thrilled we are for this too. In the core team, we're all avid scuba divers. We love the ocean and the animals in it.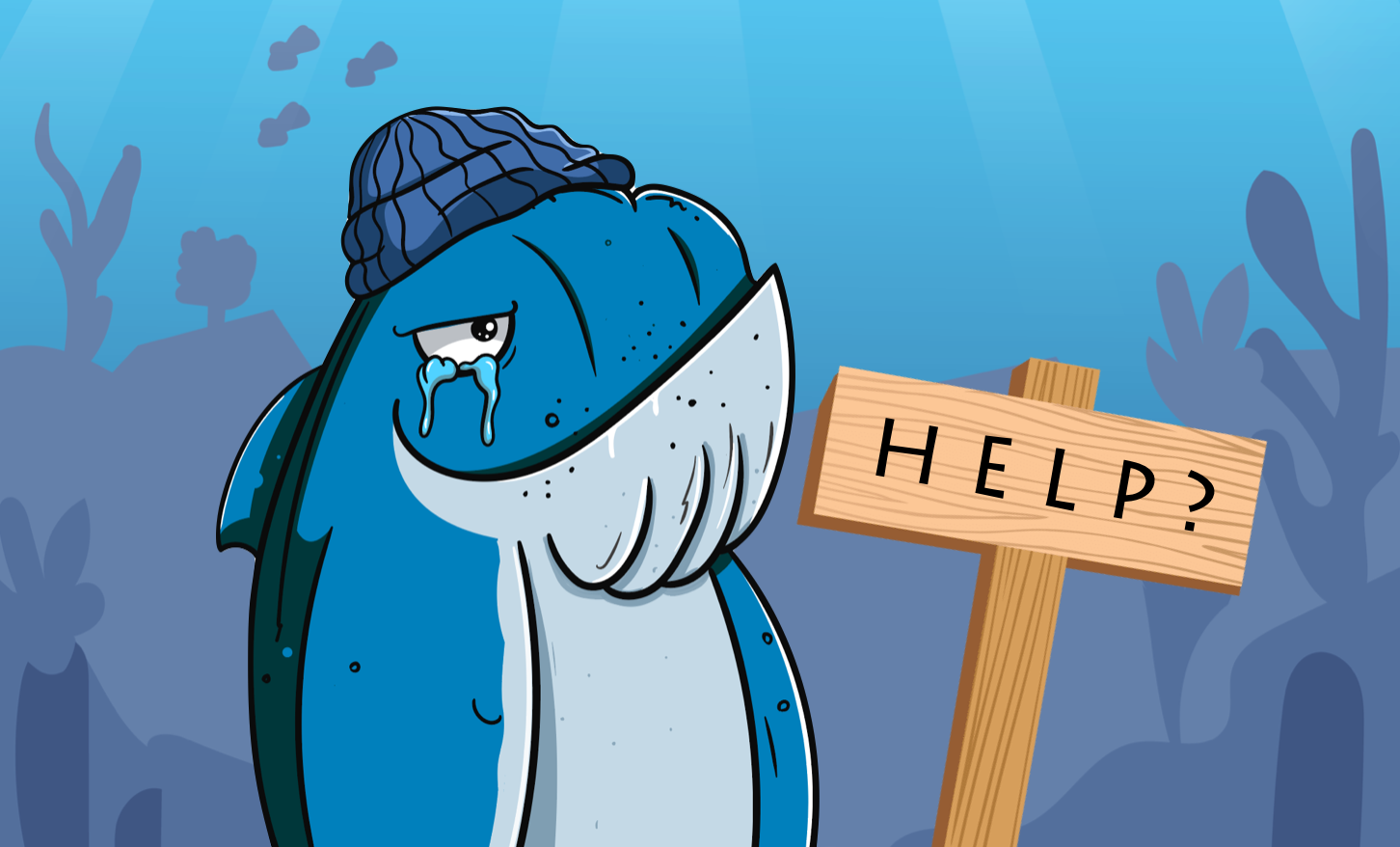 For those of you that aren't aware of this initiative, we want to make sure our project has an impact on society. For that reason we will be donating money to whale foundations on a monthly basis. Whales around the world are threatened, and these foundations aid in whale habitat preservation and protection. As we are scuba divers, a long term plan we have is to travel and record ourselves scuba diving with the whales we as a community help out. We invite all HBack Whale holders to join us and be part of the experience.
---
Whale Endeavour
The moment has arrived! The whales, now all united, will start their journey through the Madstar planet in order to discover the world they inhabit.
It all started by the discovery of a mysterious map that draws a path to reach an undisclosed region of mythical origins. They've no clue what they'll find beyond the safe grounds they depart from, though they expect obstacles of all kinds. They don't know if other species inhabit this planet.
An interactive map is being created on our new website so you can follow along in the journey. During this long travel, the whales will stop temporarily at specific points of interest (POI). Here we will hold community events based on airdropped collaboration NFTs, challenges, giveaways, treasure chests with big surprises inside, mini Web3 video games, and more!
Understand POI as landmarks or obstacles which are significant and relevant to the story. We stop temporarily there as we hold community events like the aforementioned. A lot of people in the server asked for more information and examples of this. We wanted to be wary of not spoiling too much beforehand, yet we understand you need a concrete idea of what the Whale Endeavour is about. An example we've planned is for the whales to be confronted and blocked by a smack of jellyfish. Here, we'll need to fight them off as a community. Each person will connect their wallet on our website and play a Web3 video game that will consist on fighting off incoming jellyfish attacks and bring the whole smack down. Our whales will then be able to clear the path and advance towards the mysterious destiny.
Actually, we teased it a bit with one of our background traits of the generative art!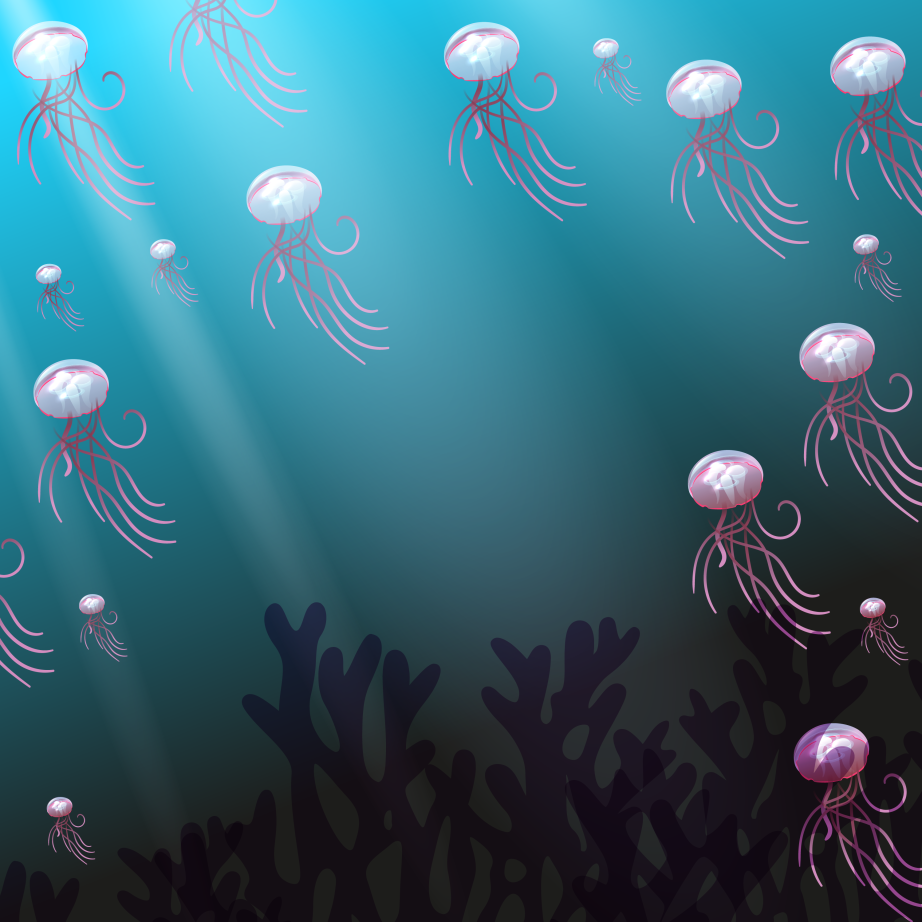 For it is such the HBack Whale holder takes the role and perspective of their whale in the story. In other words, inside the story you are the whale.
Apart of creating value for our NFTs, these Web3 games will reveal clues that are connected with the storyline. Their completion is necessary in order to advance. The objective of the journey is to reach a final destination, that for now we'll keep unrevealed. Visualise it as a sanctuary for the whales. Once we reach that destination, the Madstar DAO will be fully developed and it'll be when the community takes an outstandingly crucial vote to decide the future of the project. Just one last thing - be ready!
---
Connecting Universes and Future Club
The Rick and various Space Whales are working on exploring new dimensions inside the Madstar Universe. Thanks to their advanced technology, they're close to being able to connect our Madstar planet with other planets in alternate realities. Their calculations and advanced technology points to an upcoming interdimensional expedition into one of these multiverses.  More details about this expedition will be appearing as our whales move forward in the journey. Be ready.
Furthermore, Madstar will have a new drop in the future. This collection will let us go deeper into the intricate universe we've created. In a sense, this collection is more complex, hence our designer is starting to work on it. It'll have shared benefits as the whales, as some exclusive ones in the future. Be aware that holding the HBack Whales will guarantee a free access to this collection. The number of free mints will not depend only in the number of whales but also of their type.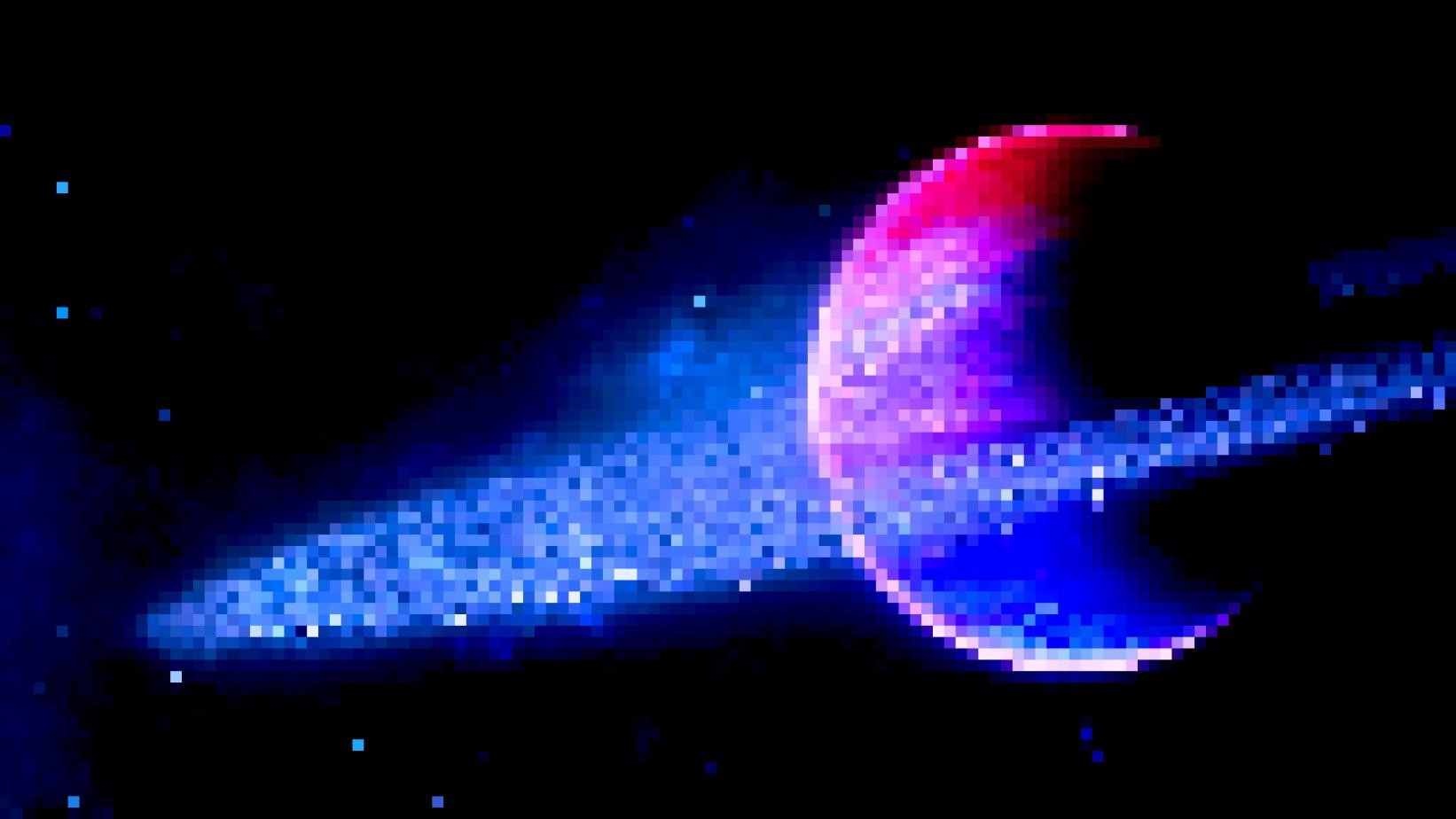 ---
Madstar Merch
Our future plans include the opening of our very own Madstar merchandise store. This is something we are particularly interested in doing because it allows us to showcase our creativity and share it with the community in a tangible manner. Our philosophy with this stems from the fact that we want our merch to stand out from other projects' merch. We want to avoid flashy colours and putting extravagant cartoons on hoodies and shirts. Instead, we propose merch with pleasant and precise designs, done with the intention of conveying in a subtle manner the exclusivity of belonging to the Madstar Club. 
The merch store will be implemented into our project in two phases. The first phase consists of a variety hoodies and shirts with the designs we've commissioned designers to do. We're still in the process of finishing the selection of those and want to keep them unrevealed for now. Among us in the core team, we had some fun designing some of our own to show you guys here a bit of what our merch will look like, and the general theme/style if you will.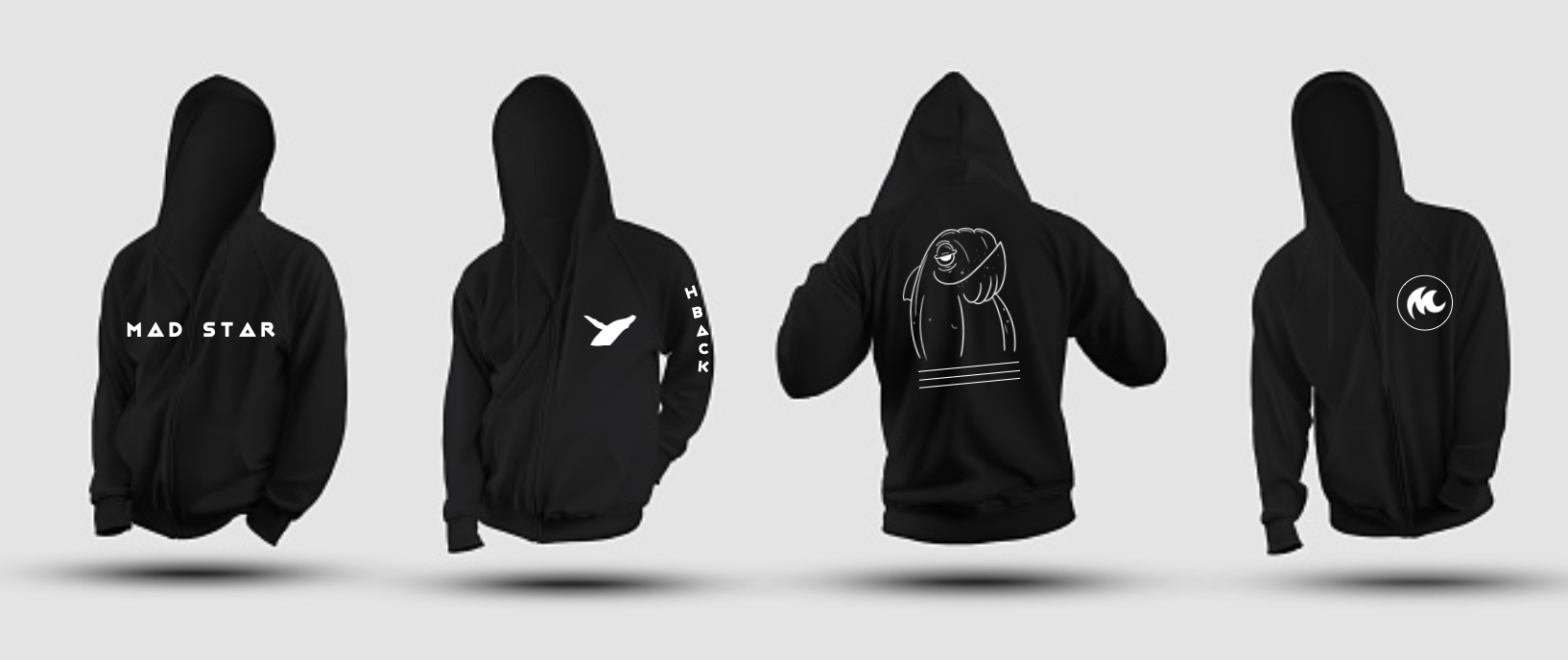 Later on, we'll initiate the second phase of our merch store in which we'll expand the product line by also offering mugs and stickers. In-between phases, we'll be open to accept designs from the community. The most voted ones will be adopted into the Madstar store and the creators will be rewarded. We as a community continue to support the whales as a percentage from merch sales will also be donated. Furthermore, we will include products from the whale foundations we work with such as toys, accessories, and more. This is another way we help the whales. We will not profit from these sales. 
Based on community feedback, we can plan to add customisable options to the store. This includes being able to add custom text and images. We're working on allowing payments in crypto (BTC & STX). In regards to this, those of you that hold whales with Madstar merch traits will have a bit of a surprise.
In essence, we want the merch store to be an extension of our desire to help save whales, while in the process showcasing our creativity, along with the community's, into tangible products.
Actually, on second thought, here's a design we're working with: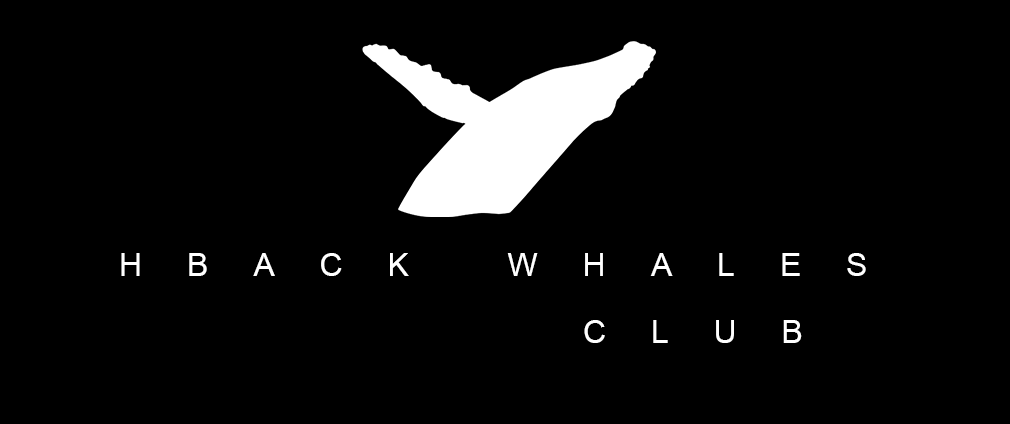 ;) 🐋❤️
---
Madstar DAO
This is a long term component of our project, yet we've already started to work on it. We value the community's feedback and input. We are going to the extent of creating a Madstar DAO and funding it ourselves through royalties. We look forward to what the whales do with this! As part of our partnership, Marbling and KCV will help us develop and improve it. 
---
Final Remarks
Please be aware that we'll expand this newsletter with more information later today and also tomorrow, as we're continuing to work behind the scenes with other projects and we're not yet able to reveal it!