[Lee el artículo original en Español aquí]
Hello, I'm Flower and this is a new content where I will show you how to create a Web3 wallet in Xverse, an essential tool to connect with applications developed for the Stacks ecosystem from your mobile phone.
The objective of this publication is for you to give shape to what you have learned in the  Curso Smartists - NFTs + © a free course with basic concepts to understand the role of NFTs, intellectual property and copyright licenses.
How to create a Web3 wallet: Xverse
In my previous article, I showed you How to create a Web3 Hiro wallet for your computer and now you will see how to create a Web3 wallet to manage everything from your mobile phone.
✅ To understand web3, here I explain in detail.
Before I start, I want to say that Xverse is my favorite mobile wallet today. It has everything I need to manage my Stacks funds, receive, and send NFTs and stack for a return on Bitcoin every 15 days.
PASO A PASO:
STEP 1: Go to the official website https://www.xverse.app and click the button: Download the App.
STEP 2: Install the app depending on your mobile device (Android or iOS). You can install this app on mobile phones, tablets and even iPad.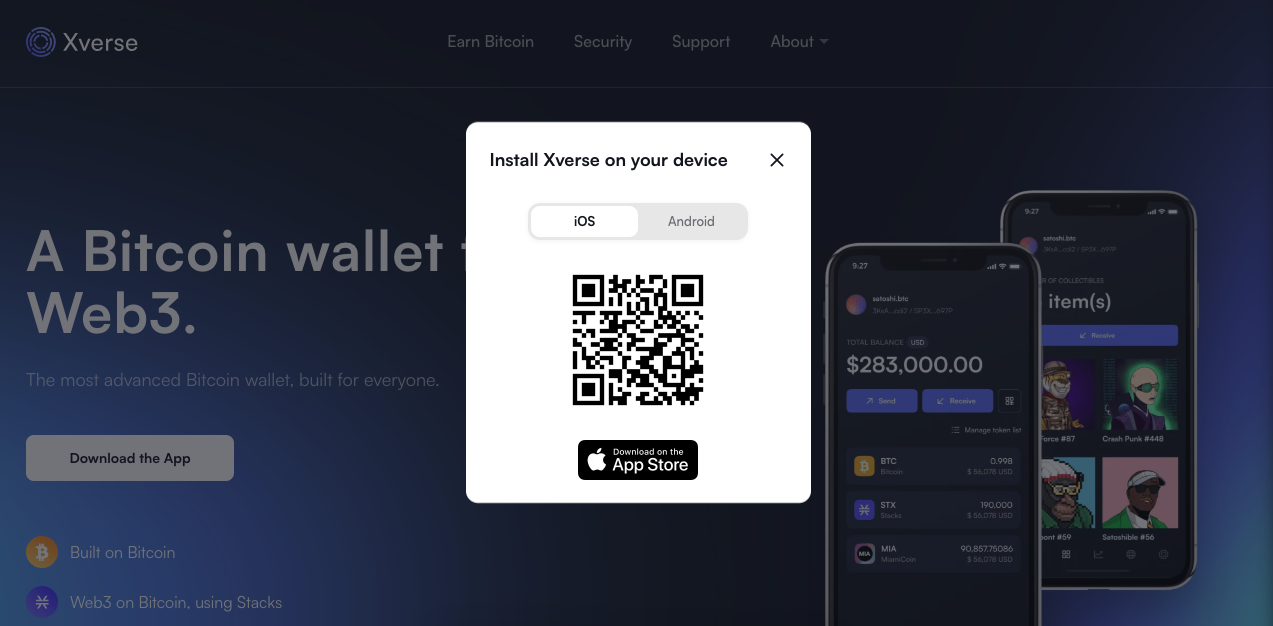 For security and privacy reasons, install this application on a mobile phone that you own, that only you have access to.
STEP 3: Open the app on your device and click the Create New Wallet button. Next, you will be shown a series of informative messages about the process to follow and information on Xverse's policies and legal notice. Read everything well, press Next to continue.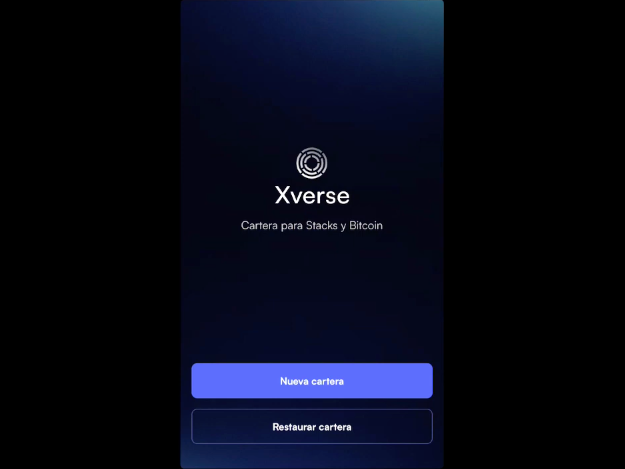 STEP 4: When you complete the previous steps, your wallet creation process begins. You will be shown a page where your seed phrase will be generated. It is a set of unique words for you, which you must write on paper in the exact same order as they appear. You must carefully save information like a treasure, because it will allow you to access your wallet on your device and even transfer it to another if you need it.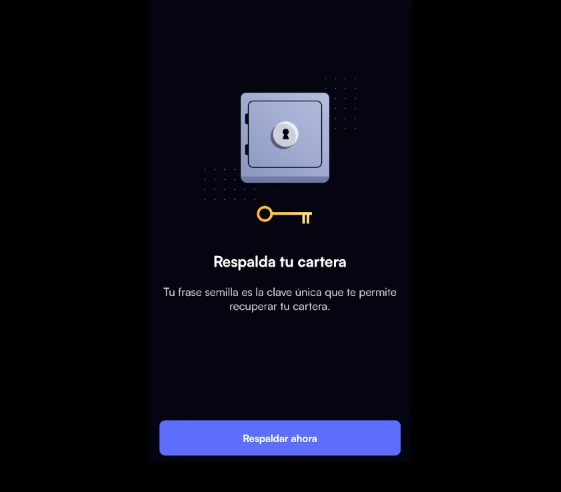 You should treat your seed phrase like your bank account password because that is basically what it is. Only you should know these words, no one else. If someone gets this information, he will have access to all your funds, and I guess you don't want that, do you?
Once you have written down and saved these words very well, click on the button Next, as shown in the image below: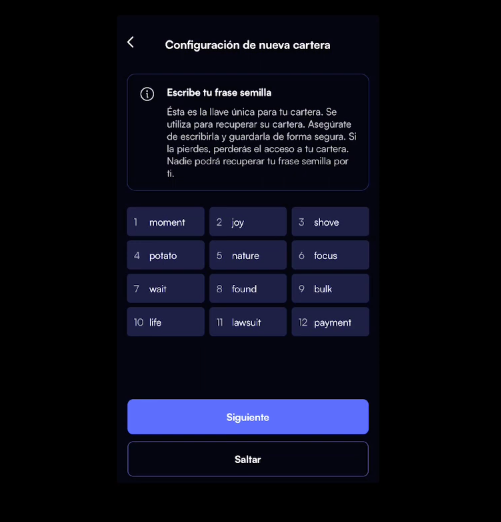 This is a screenshot of a random wallet, for educational purposes only, it has no funds. Never share your seed phrase.
Now, you must type the words of your seed phrase in the exact same order in which they were shown to you before, in order to continue with the creation of your wallet. Once you do that, click Next.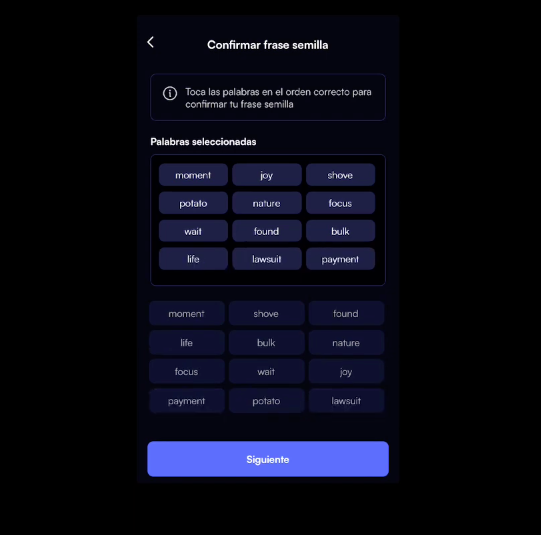 STEP 5: Afterwards, you will be able to create a password to log in every time you open the app. You can choose Basic Security or Enhanced Security. Keep in mind that this is your access key when you want to use your assets, it will be requested every time you want to connect your wallet to any application in the Stacks ecosystem.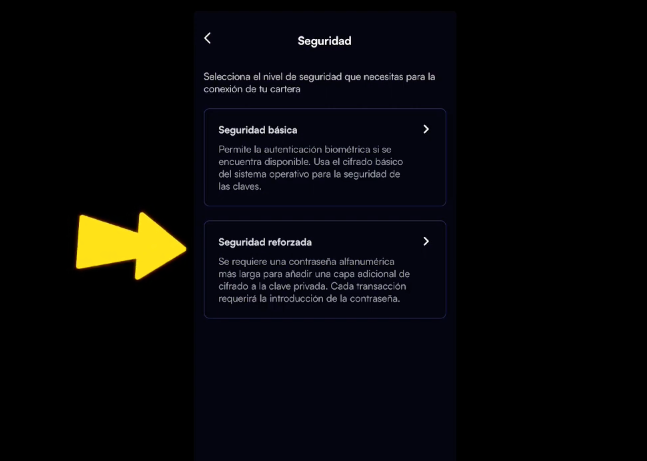 I personally prefer the strongest security option, by which I sign in with a password that contains uppercase and special characters. I do not have FaceID or TouchID enabled.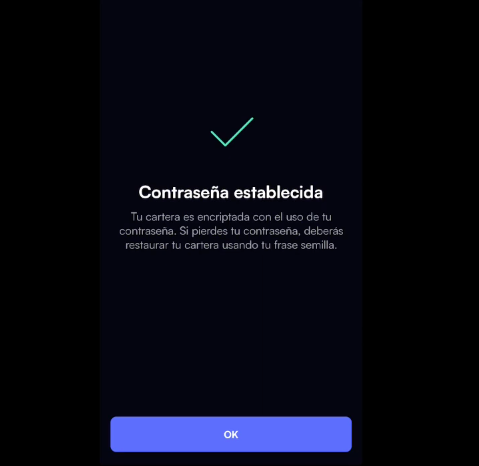 STEP 6: Once the above steps are done, you already have your mobile wallet active with Bitcoin and Stacks as the two enabled currencies. You can receive, send, and buy any of them from the application through MoonPay.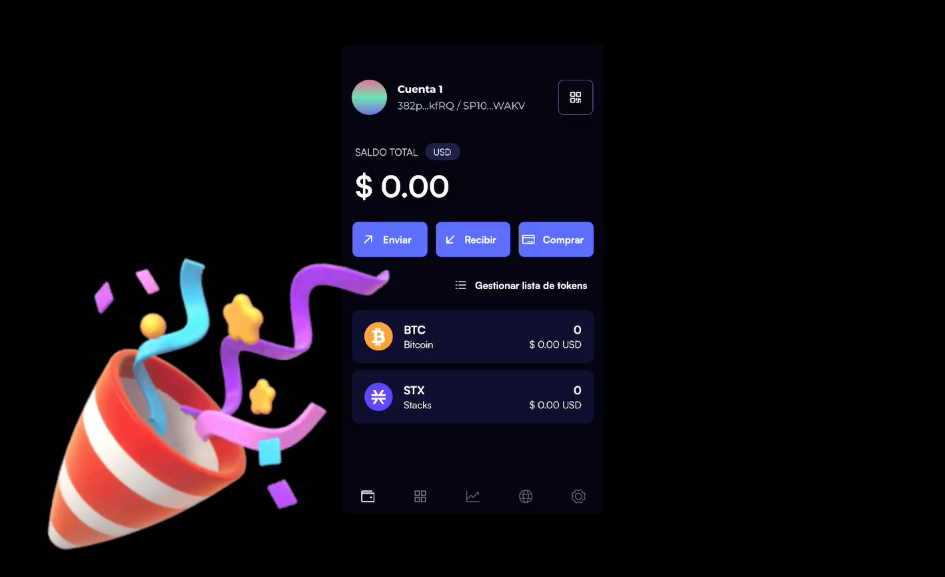 With Xverse you can do the same as with the Hiro wallet  but all from your phone.
There is a special feature that you should take advantage of if you have funds in Stacks cryptocurrency on Xverse and that is to stack directly from your device to earn a return paid in Bitcoin every 15 days. The APY or annual percentage yield is approximately 10 - 12%, so it is a good way to monetize your money and save in BTC.
Starting to stack from your wallet is as simple as having a minimum balance of 100 STX and clicking the middle button on the bottom bar of the Xverse app. At all times, you will be given the option to choose how long you want to do this and what it implies.
I have been stacking since May 2021. I always choose the longest cycle (6), which is 3 months and I rest 1 cycle. With this calculadora de stacking I can estimate my earnings per day, week, month and year. Soon with Stacks 2.1 it will be possible to do continuous stacking, indefinitely, without pauses.
✅ If this topic has not been clear to you, I have created the most complete video tutorial in Spanish on How to create your Stacks wallet and what you can do with it, click here to watch it now.
There are many things that can be done simply by connecting your Xverse Web3 mobile wallet to decentralized applications that you will gradually get to know because the Stacks ecosystem is growing by leaps and bounds. Look at the apps available here.
Now, at this point, I hope you have been able to create your wallet from your mobile, that you know what you can do with it from now on and remember to go through the Curso gratuito de Smartists - NFTs + © to enrich your mind with the necessary basic concepts to consider.
By the way...
✅ Connect your Xverse wallet to the app: https://smartists.net then become a member by creating a user account on the platform and request a free Mirlo NFT through the official Smartists Discord here: https://discord.gg/93CzmEbHqg Limited places 👀
I send you all a big hug and wish you have a wonderful day!
Flower.