Since the end of Summer is approaching, it is time to look for a new year (academic cycles still prevail for most of us). This is usually a time to look forward with energy and hope, as well as a time for farewells…
About these two conveying feelings in this season, two artists in the Smartists community - Grace Hye and Gimferrer (a.k.a. @Mirlopiano) - have a lot to say. And they are going to do it through their Art, through their very special project FOUR SEASONS.
FOUR SEASONS FOUNDATION
Upcoming launch of the FALL NFTs
The FOUR SEASONS project has been followed by their communities on Discord during the past year, and this September they are launching the first set of 10 NFTs with visuals created by Grace Hye, from her wonderful ink originals animated with AI, and with a specific piano music by Gimferrer. The owners of these pieces will get with their NFTs a percentage of the original complete piece, which will remain un-sold in the Four Seasons Foundation. To know more about this innovative sales mechanism, we leave the article in the Sigle Blog by @graceHye.
On my side, I will be soon be sharing a series of interviews of these two artists, where they explain a bit about how they personally experience every season of the year, as well as some behind-the-scenes details of this NFTs collaborative project. Here I bring just two quotes about the Fall.
Grace Hye sent me the image of her work (when it was still in progress) that you can see below, and she told me that:
"Autumn gives a cool feeling, washing away the hot summer. The words that remind me of autumn are mushrooms, red leaves, and acorns. My community members have similar thoughts : cool, breeze, curly, leaves, auburn, leaf fall…"
[…]
"I have two images of autumn. I lived in Korea until I was 21, and have been living in France ever since. My autumn image until the age of 21 is the Chuseok holiday, cosmos, and dragonflies…" 
Grace Hye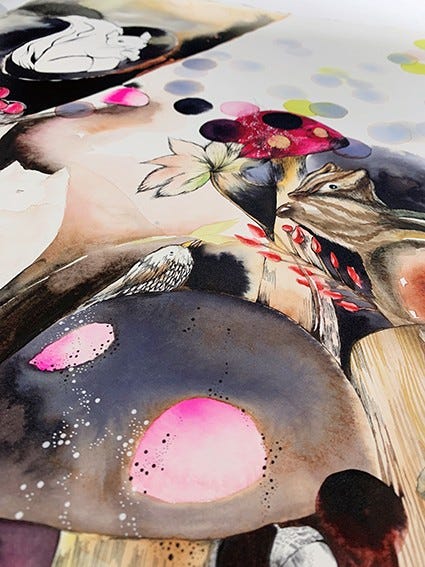 Gimferrer sent us this link to the video where he explains a bit about his composition for the FALL and he told me this:
"When I think of the Fall, the first thing that comes to mind is leaves falling off the trees, and the color orange/red, which is somewhat melancholic because we are leaving the summer behind. Apart from that, it is also a season that for some reason always makes the wine harvest come to mind, maybe it's because I am from Spain, having some family roots in the region of La Rioja (where we have a huge wine tradition). Finally, the arrival of the cold preceding the winter is also something that I associate with the Fall.
[…].

"I decided to incorporate the celebratory aspect of the Fall, so that is why I added a quote from the Duet « Vivat Bacchus » by Mozart, where two characters from one of his operas are enjoying a good wine. To contrast with this, I have also incorporated a traditional Scottish song called « Auld Lang Syne », which is a song of melancholy saying goodbye to old times. Near the end of the piece, I tried to bring the cold aspect, as the excitement fades away, preparing for the Winter."
Gimferrer
+
Latest News from Smartists.
This Fall, the Smartists community will close their websites and we will just keep our Smartists Blog-Newsletter open. It may probably get a new name, since we are looking for someone to take over in order to keep serving independent artists who are looking to defend their rights on the web3, in accordance with the original Smartists' mission.
Thank you for reading!